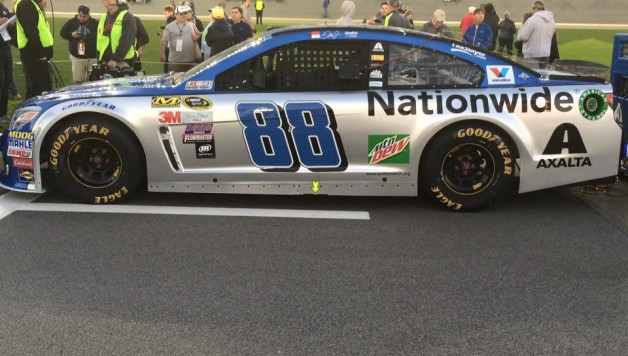 Daytona Beach, Fla. – NASCAR is the only professional sport that starts a new season with its version of the Super Bowl, The Daytona 500. Daytona's festival of racing, also known as Speedweeks, lived up to all the hype and the 58th running produced the closest finish in history at .010 with Denny Hamlin edging our Martin Truex Jr.
The Great American Race (coined by Ken Squire) started with tremendous fanfare and Florida Georgia Line entertaining the sold-out capacity crowd estimated at over 100,000 strong. Driver introductions and pre-race ceremonies created an electric atmosphere. Chase Elliot was greeted by both his father, Bill Elliott and the NAPA #24 owner, Rich Hendrick, before he led the field to the green flag.
Chase Elliot led the first couple of laps before Date Earnhardt Jr took the lead on cheers of the sold-out crowd. The 500 had 6 caution periods for a total of 31 yellow flag laps and the BIG crash never came. Fan favorites Chase Elliott, Dale Earnhardt Jr. and Danica Patrick all failed to finish. There were 20 lead changes among 15 drivers with the final lead change coming out of turn 4 on the final lap.
The closest finish in Daytona 500 history was a 0.10 margin of victory with Denny Hamlin coming from the 3rd position on the track leaving turn 4 heading to the checkered flag.JGR cars were in positions 1,3,4 and 5 with an alliance Toyota for Furniture Row sitting in 2nd. Toyota had the field covered that afternoon and would go on to claim its first Daytona 500 victory.
Kevin Harvick made a move to the high side as momentum built coming out of turn 4. Denny Hamlin moved up to both capture the momentum and block Harvick. Kenseth had to make a decision to either stay with Truex on the bottom or go to the top with Hamlin. Kenseth's move to the high side overshot the "freight train" that Harvick started and sent him into a third lane, higher than Hamlin. Hamlin crossed over Kenseth and with a little contact got Kenseth loose.
Hamlin's momentum and bump drafting from Harvick put him in the lead by inches over Truex. It was unclear to the human eye who won until the computer displayed Hamlin the winner on the big screen around the track. A photo finish victory for Joe Gibbs Racing, Toyota and Denny Hamlin capped a historic Daytona 500.