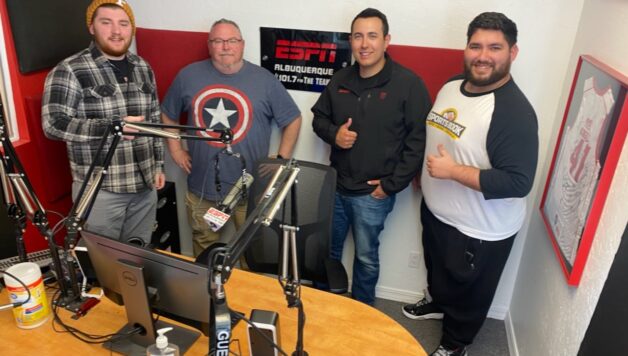 NMMSR Celebrating 10 Years on ESPN Radio 101.7 The Team
By David Swope
Saturday February 4, 2023 was our 10 Year Anniversary Celebration at Yearwood Performance. As one of the original presenting sponsors, it was an honor to broadcast from their location at 341 Eubank Blvd NE. Yearwood also had an Open House which brought out supporters and car enthusiast. Music was provided by Steve's Cruising with the Oldies and food by Pizza Castle.
The New Mexico Motor Sports Report (NMMSR) started as the Sandia Racing Update in 2010. The show ran for 9 months on an AM radio station that no longer exists. It is estimated that we did 35 shows and it set the format used for NMMSR.
The first show was broadcast LIVE at the Super Nationals Car Show on the first Saturday in February of 2013. Original sponsors were Albuquerque Dragway, Yearwood Performance, R&S PowerSports, The Unser Racing Museum and the Rods & Rides Magazine. It was the first of 520+ shows done to date.
Our first guest was Al Unser Sr, 4-Time Winner of the Indy 500. It was a recorded interview, but he was there in spirit and Al Jr's #31 Penske Marlboro Car was sitting right in front of our broadcast location. Matt Torres with Super Nationals, Yearwood's Jim Costa and the New Mexico Rods & Rides owner and publisher, Mark Hellyer were all on the show LIVE.
For our 10 Year Anniversary show we were able to have Jim and Matt join us, none of us have aged a bit. Al died in 2021 and he had been on the show several times including an Indy 500 show we did with Al, Jr, Bobby and Rick Galles all in the same show. Robert Costa with Albuquerque Dragway was on the show as well as one of our pinch-hitter hosts, Steve Haydu.
During the 10-year run, we have been blessed with talented producers. Ray Montano got us started and intern, Christian Naranjo, ran the board for several years. Kelly Watson put up with all our shenanigans for the longest stretch until Dan Watkins took over about 18 months ago. RJ Lees showed up one day 5 years ago and never left! RJ brings us the event calendar every week so we would be lost without him.
The New Mexico Motor Sports Report has been on the road and broadcasted LIVE from several sites. The Daytona 500 in February of 2016 was the closest finish in Daytona 500 history, and we were there. Our broadcast was LIVE from the infield stage with guests, NASCAR Hall of Famer, Bobby Allison, and the long-time voice of NASCAR, Ken Squire. We have been to the NASACR Championship Race in Phoenix, The Indianapolis 500 with IndyCar and the Circuit of the Americas with Formula One.
The interviews are what every journalist wants on their resume. Al, Al Jr. and Bobby Unser have all been guests. In NASCAR, we got Dale Earnhardt Jr. and Sebastian Vettel in Formula One. Our latest was Kyle Larson in a One-on-One. We have been fortunate enough to have had Henry Winkler, The Fonze, and Butch Patrick, Eddie Munster, on the show. We have brought our followers informational and timely interviews on both a local and National level.
There have been several partners that have helped grow the reach for our fan base. Dominic Aragon with the Racing Experts has been a long-time contributor and road buddy to the races for the show. Brooklyn Green was our first UNM intern and John Haverlin has been a writing contributor and our website manager for years. Spencer Hill has been a vital part on NMMSR as a host, co-host and often a combatant with host David Swope, they just seem to disagree on everything. We hope you have enjoyed the weekly broadcasts and hope you have enjoyed the magazine too.
We will close with this, if you are passionate about something – just do it. There are other people out there that feel the same way you do and are glad you did something about it. Hopefully, we can keep this thing going for another 10 years!