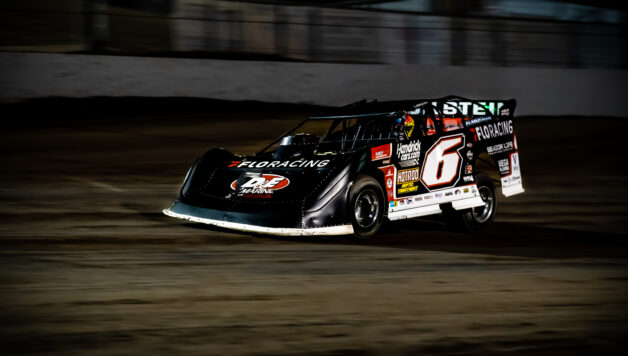 Note: This article can be found in the March edition of the New Mexico Motorsports Report magazine.
Exclusive Interview with David Swope
The 17th Annual Wild West Shootout rolled into Vado Speedway Park with open practice on Friday January 6th. The premier racing drivers in Super Late Models were able to compete in 6 cash and points paying races over 9 days starting on Saturday January 7, 2023. A bonus payout for $25,000 went to the driver who won 4 out of 6, a bonus $100,000 to a driver who won 5 and a super bonus of $250,000 to a driver that sweep all 6 victories and a 2023 Chevrolet Silverado – just for fun!
2021 NASCAR Cup Series Champion, Kyle Larson, decided to make a run at the Wild West Shootout. "The 2022 / 2023 off-season has been different than any other offseason I've had before," said Larson during an interview for the NM Motor Sports Report. "I wanted to support the Shootout because it's a tough region to get fans to, especially in early January. It's typically cold but I wanted to come and support it."
The promoter of the Wild West Shootout, Chris Kearns, and Vado Speedway Park Owner, Royal Jones, added star power to the 17th Annual Event by bringing in the dirt phenom and former NASCAR Champ, Kyle Larson. "They really support the teams, the competitors and the fans," said Larson. "The purses are strong. I want to see if I can help attracting more people there so this event doesn't go anywhere. I would hate to see the event shrink in size financially. I would hate to see it disappear. I love what Chris Kearns and Royal Jones are doing to help grow events and I definitely wanted to be a part of that." 
Kyle Larson has followed in the footsteps of Jeff Gordon to NASCAR coming from the dirt tracks of California. During Larson's suspension from NASCAR in 2020, Larson tore up the dirt tracks around the United States. Larson's support from the dirt track community found 'their driver' winning the 2021 NASCAR Championship with 10 victories on the season. However, winning the Chili Bowl in 2021 was almost a larger accomplishment to "Yung Money" than his Cup Championship.
"I've just started to race dirt late models the last couple years and have really enjoyed them," said Larson. "It's a good stretch in racing for me. You know, I haven't done much offseason racing at all this year. I've only ran one time this off-season so for me to get six races in in a week and a half, that's going to be really good to help me get ready for the NASCAR season."
"I believe the first time I met him (Jones) was at a kind of a Sprint Car version of the Wild West Shootout. I can't remember what the name of it was, something like Winter Heat. It was in Yuma," said Larson of his meeting of Royal Jones. "I remember meeting him in the casino. I thought that was really cool because he's a guy who's supported a lot of racers throughout the years, a lot of Legendary Hall of Famers and he has his own tracks. He's a great ambassador for the sport." Larson said. "I've heard Royal owns a couple golf courses in the area, definitely bringing my golf clubs and thankfully kill some time during the day." 
"I'm gonna go find some good Mexican food too," Larson said with a smile. When asked the State question of Green or Red, "I like green sauce on my enchiladas. I'm definitely looking forward to the Mexican food. That's my favorite. The closer you get to the border, the better the food gets. I'm excited to get there and eat a lot of greasy, Mexican food, a lot of chips and salsa and probably come back, five or so pounds heavier than when I got there."
Kyle Larson did not win any of the races during the Wild West Shootout, but he had a great time with three second place finishes. Royal Jones has confirmed the Larson will be back in 2024. 
Mark your calendars for January 5 -14, 2024 for the 18th Annual Wild West Shootout!