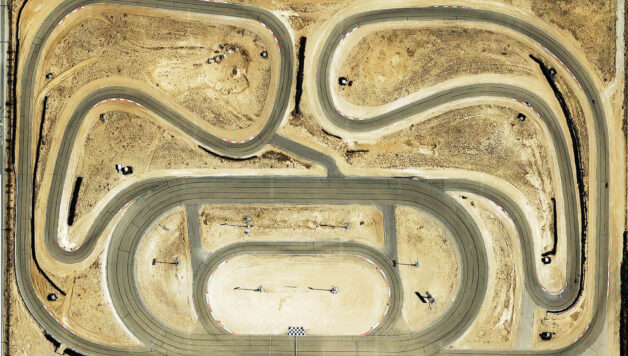 JIM GUTHRIE, DAN BROCKETT, MIKE OSSELL
I'm Guthrie: A Sit Down with Jim Guthrie
David Swope: I got to ask you, what are the first 90 days look like for you? What are your goals? 
Jim Guthrie: Well, I wish I knew the answer to that. You know what?  I have got so many things. People have reached out and there's so many things that we want to do. So, this next couple of weeks were going to be lining them up and then figuring it out. Okay… here's the low-hanging fruit. This is what we need to be doing, but just to give you a quick idea of what some of our bigger plans are, and don't know if I'm going to get them all done, in 90 days but, you know, starting with the asphalt track; we want to make it SCCA (Sports Car Club of America) legal and to do that, we've got to bring in some K-rails and some dirt and some more tires and bring that up to their safety level. On the dirt track, we're going to do a lot to the track. At least we're planning to. We're planning to get rid of some of the bank by flattening out the track. It'll be safer for watering; the water will stay on the track longer and I think it will provide some better racing because it will be more about a driver and the setup rather than a big motor. So, we're excited about that. We've got all kinds of different promotional opportunities; people have been reaching out to us to bring more events to Albuquerque. We're looking for big, big things like that in the future. 
Dave: That's fantastic. And of course, there are plenty of infrastructure, things. Other infrastructure things, you probably must address. But, first off, talk about the day-to-day operations. There's an announcement on Facebook, David Tanner is going to be your GM. What are some of the tasks that you're going to have him off doing initially? 
Jim: You know, I think our dirt track needs a lot of focus and we're going to be focusing a lot of our time and efforts there. Dave is going to handle that and then one of my partners, Dan Brockett, is going to help us on the asphalt side. So, we're all going to kind of take the reins, to go in different directions. At the end, hopefully we accomplish more by doing that. We're going to kind of divide and conquer so to speak. 
Dave: If people were wanting to get involved with resources, time, energy. What's the best way to reach you?
Jim:  Dan Brockett is setting up a Facebook page, just for that. So that people who have services that they either want to donate or let us know that they're capable of doing like dirt moving, asphalt crack repair, all kinds of things like that, we'd love to have people sign up for that on Facebook and I'll reach out to them. We'll have a chat with them and see what we can do. Obviously, there's a lot of as you said, infrastructure things that we need to take care of and that's definitely going to be our priority. To the racers and to the spectators, we've got a lot of work to do. You know, I'll bet that it's going to take us three years to get all the things done that we want to do. We've set aside $350,000 for the beginning to do our fixes. If we need more, we will get more but we definitely have a desire to make it as good as the original founders had ever wanted it to be, or better. So that's our goal.
It's Not Crazy, It's Dan Brockett
David Swope: Let me be the first to announce that there will be a No Coast Drift 13. Dan, did you have your brain checked? Because Dan running a speedway, who would have thought? 
Dan Brockett: Yeah, about that. Yeah, yeah, it's not something that I ever dreamed about, but it is definitely a part of my reality as of this week. So here we are. 
Dave: First off, congratulations. With No Coast, as an owner, do you feel a little bit different about that risk management now (questioned the bonfire)?
Dan: Absolutely not! We're still gonna be awesome. That's part of the whole experience. So, we're going to keep that going. 
Dave: I have seen you on social media, you were able to make the announcement. Let people know what's going on. Tell me a little bit about your buddy, Mike Ossell.
Dan: Yeah, it's crazy because Mike and I go back to before I was into cars. I used to go up to Durango to snowboard a lot and he was my good buddy's roommate back in like, 2000-2001. That's when I first met Mike. Mike had a clothing company called DVLP. He was young and had already started a business of his own. DVLP went on and got bought by some big conglomerate. Anyway, fast forward. He became a mechanic shortly after that and opened his own shop with a specialty in Subaru and Toyota repair in Denver. They just smash out work with two lifts and he's built his business up from there. Got into drifting about six years ago. We reconvened totally on accident, it was crazy. We've been hanging out and doing things like Drift Week and he came down to almost all the events for the last two seasons and the last three No Coasts. It's been good to reunite that flame. He had some cash socked away. He's doing his business and decided that maybe investing in a racetrack would be a wise choice. So, we'll see if that actually pans out, but that's a little bit of history about Mike. He's a fantastic human and I'm absolutely 100% thrilled to have him on the team. 
Dave: What are some of the things that you wanted to do on your short list? Are we going to see an expansion of the drift series? Will the Whiskey Garage Drift Series will see some bigger names come in or what are some of your thoughts at least initially? 
Dan: Now that I know that I'm part owner, I have a little bit more say about the schedule and I can kind of pull rank and have things done when I need to have it because before I was always kind of last pick. We would fill in all the empty slots with drift events, not able to pick and choose what I wanted. Now, I have the pick of the litter. I do have two more events, bringing us to a total of eight including No Coast. So, normally we only have six including No Coast. So, we've already expanded this season and I'm pretty excited about that. 
Dan: As for other stuff, this is something that I've been trying to do for a long time – get other larger events. Because of the way the track wouldn't do full day rentals, that automatically turned off any large event that wanted to go there. We're going to change that. We're going to have large event full day rentals. I can get things like LS Fest, Gridlife and things like FuelFest and stuff like that to come out because that could be huge for us, especially Albuquerque. When you can get 10 to 15 thousand people out there instead of the, the most that I think I've ever had been 2,000. I think utilizing that space for what it has potential for is going to be our prime directive. Expanding the track is going to kind of come secondary to fixing the skid pad and filling in all the cracks. Hopefully, profitability may lead to a repave at some point. We're going to test out doing some things like a sealant around the small oval because the drift guys are really the only ones that use that if it holds up to us, and it makes the track grippy and it wears on less tires, maybe that's something we can do every two years. It'll still be cheaper than a repave.
To hear the full interviews from February 4th, go to NMMotorsportsReport.com
Meet David Tanner, Sandia Speedway GM
David Swope: A big cleanup last weekend (at the track). How are things how things going out there?
David Tanner: Good. We've got a show coming up with the Legends (Legend Cars) and we're still kind of finishing up to make it raceable, but we'll be ready. 
Swope: What are some of your first priorities, maybe the first 90 days, that you're trying to work on?
Tanner: Well, on the dirt side, the first priority is safety. We've got to add more cables to the to the catch fence on both sides. The Scoring Tower, it's like a gauntlet to get up into that. We've got to make that a lot safer for the scorers and the announcer. 
Swope: Jim Guthrie mention that you may be taking some of the banking out of the track. Is that more long-term? 
Tanner: We talked long and hard about that. He still wants to do it but there just wasn't enough time this year. Things just took longer to finalize than they had thought. (Referring to the purchase of the track) We're going to take the banking out and move the mini sprint track more into the infield and actually make it bigger. The micro sprint track has always been kind of a point of interest for me growing up.
Swope: Moving that to the infield, would that mean that you're not going to have to share the front straightaway anymore? 
Tanner: That's the reason for it.
Spencer Hill: Are we going to see non-winged sprint cars on the schedule? 
Tanner: Sprint Cars are coming back, definitely.
Swope: David, I do want to know how did this whole position come together for you. What were the talks like to get you into the general manager position? 
Tanner: Well, honestly, it was out of the blue. I didn't expect it at all. I got a phone call and we talked about it and a week later, we decided that I was going to be the guy. 
Spencer: Have you started to put a staff together? 
Tanner: Yeah, we're trying to contact all the people that were involved with the track before and have reached out to a lot of them while still trying to get numbers for others, but most everybody's happy to come back. 
Swope: Well, there is a facility side. That's different than the racing side and the promotion side too. 
Tanner: It (promotions) was never my strength. I don't know anything about clay, you know. I don't, all I know is what isn't working when people who drive on it, tell me about it.
To hear the full interview from February 11th, go to NMMotorsportsReport.com