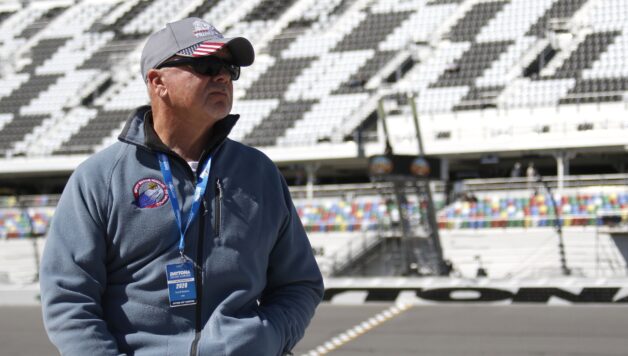 Geoff Bodine "Honored to be named one of NASCAR's 75 Greatest Drivers"
BY GEOFF BODINE
PHOTOS BY NASCAR, TRE, GETTY IMAGES
It's hard to believe it was 25 years ago when NASCAR named the 50 Greatest Drivers ahead of the 1998 Daytona 500. It feels like just yesterday when life was in high gear and I was racing full-time in the NASCAR Cup Series.
To me it seems like an impossible task to pick 50 drivers, and feel fortunate to be in that first 50.
It was a great honor to be part of the original Greatest 50 Drivers NASCAR announced that year, and now to be included in the addition of the next 25.
A few weeks back, I was contacted by the people at NASCAR. They said they needed to send me something. I knew it wasn't going to be a trip to the Bahamas, and I had heard about the expansion of the 50 list, but didn't know what to expect.
Some time passed and I got a box in the mail from NASCAR. Inside was the NASCAR 75th logo printed on the inside of a nice box. Inside it was a piece of paper that congratulated me on being one of the 75 greatest drivers and that NASCAR would like to recognize my "outstanding achievements in stock car racing."
Also inside the box, buried in some blue, yellow, and red zig-zag confetti was a 1:24 scale diecast with the 75th anniversary logos in a black-and-silver paint scheme.
It was neat to see the car and hold it. Other drivers being honored have received the same package in the mail.
It was nice to be recognized, but I'm really glad to see Sterling Marlin being honored on the list. He's a fighter. It will be fun to reminisce with him and the many others that will be there.
I think these kinds of awards should be reserved for drivers no longer active. Some of the current drivers being honored have done plenty to be a part of the group, but these types of awards should be for people that aren't active, but that's my opinion and feelings.
It's great to be in the number, but there's so many drivers that are not in it that should be in it. Unfortunately, there's times and situations where you can't include everyone at the same time. Hopefully, in the long run, everyone that deserves to be on the list will get in.
My wife Lori and I will be in Darlington. As of right now, I have no idea what is planned. I've told NASCAR and the track to keep me busy signing autographs and shaking as many hands as possible.
Then, I will be back at the track the following week ahead of this year's All-Star Race at North Wilkesboro Speedway. I will be there midweek for filming prior to the race weekend. What a cool track. I won in modifieds and Cup cars, and was the last driver to lap the field.
It is rare for me to go back to the track and do appearances, especially back-to-back weekends.
If you have any Geoff Bodine memorabilia and are coming to the races at Darlington and/or North Wilkesboro, bring what you can, I'll sign it! While we're at it, let's grab a picture too.
I usually sign autographs on the couch on Sundays while I'm watching the race and I'll mail them back. Without the racefans, I wouldn't have a career. I'm very thankful for you.
The best part for me will be to see all the drivers. When you stop being at the track, you stop seeing the people too, and you miss them. You miss the drivers, fans, the atmosphere. I'm hoping we have great weather and exciting racing.
If you'd like to partner with Geoff's Journal, e-mail us at info@theracingexperts.net.