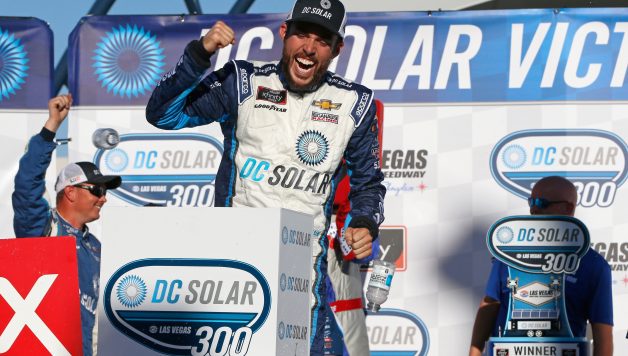 What might Ross Chastain's 2019 season look like? Hopefully, it's in-Spire-ing
Ross Chastain was poised to drive the No. 42 Chip Ganassi Racing car in the 2019 NASCAR Xfinity Series season, but the team will cut its Xfinity program due to a lack of sponsorship.
Ganassi released a statement Friday that the car can't run without funding from DC Solar, which leaves Chastain without a competitive ride.
This was supposed to be Chastain's big break in NASCAR. After running three Xfinity events in the middle of last season and winning at Las Vegas with CGR, it looked like his ability to wheel a racecar earned him a top ride.
This is a devastating blow for Chastain. But, this doesn't mean his entire 2019 season is in jeopardy.
He's still expected to race in the Cup Series. It was announced in October that'd he return to Premium Motorsports.
Last month, Premium owner Jay Robinson was involved in the purchase of Furniture Row Racing's charter. The new car that will use FRR's charter will be the No. 77 Spire Motorsports Chevrolet.
Spire Sports + Entertainment is an agency that represents several racecar drivers, including Chastain.
Since Robinson has Chastain under his control for 2019, and Chastain works with Spire, it'd only make sense for him to run at least a partial schedule with the new team, right?
So why might this No. 77 car be a better option for Chastain than a standard Premium car?
Since Spire owns FRR's former No. 78 charter, the team will earn a significant amount of money because the charter has been with a high-performing organization over the last three years.
In 2017, Martin Truex Jr. won the championship and finished runner-up in 2018 driving for FRR, so the value of the team's charter is greater than the other 35 in the Cup field.
It's really hard to predict how the Spire car will run right now. The team hasn't announced an alliance, a driver, or a crew chief. But it will be guaranteed some pretty decent funding in its first year. Most start-up NASCAR teams aren't blessed with that luxury.
Chastain has been solid in the Premium Motorsports cars over the last two seasons. In 36 career starts, he has 10 top-25s including a 20th-place finish in his debut at Dover in 2017. The Cup cars he's driven to this point have been backmarkers that are expected to finish in the 30s, so give Chastain credit where it's due.
Ultimately, we don't know for sure if Chastain will drive for Spire and what kind of performance we could expect to see out of the No. 77. But if he were to drive the car to a few top-15 finishes this season, that'd surely turn some heads and encourage prospective team owners to think he's the real deal.
It's a shame that Chastain won't race with Ganassi in 2019, especially since he had the potential to be an Xfinity champion with the team. But he's still in NASCAR, and he'll continue to find his way to the top despite this setback.
Photo: Jonathan Ferrey / Getty Images