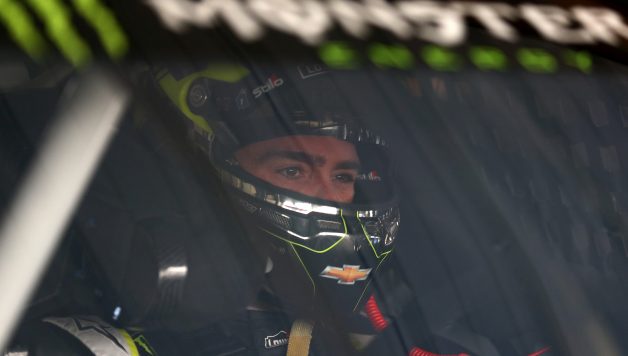 Haverlin's Hot Take: Even without deep playoff run, Jimmie Johnson has made late-season headlines
Despite getting knocked out of the NASCAR Cup Series playoffs after the opening round, seven-time champion Jimmie Johnson has still managed to put a spotlight on himself and the No. 48 team in recent weeks.
Johnson failed to advance to the Round of 12 after spinning and wrecking with Martin Truex Jr. through the last chicane before the checkered flag during the Charlotte Roval race. He was running behind leader Truex but locked up the brakes in an attempt to overtake the Furniture Row Racing driver in the final turns.
He won't win championship No. 8 in 2018, but there have been three stories surrounding the Hendrick Motorsports driver, who's still searching for his first win of the season:
Something F1SHY is happening
Johnson and two-time Formula One world champion Fernando Alonso seem to have an announcement to make. What is it? We're still not entirely sure. Some of the most realistic theories include a potential ride swap; Johnson and Alonso would test each other's racecars. Or, perhaps they could be teammates for a sports car event, such as the 24-hour race at Daytona in January.
Whatever it is they end up doing together, it'll draw a lot of attention. Both drivers have more than 2.5 million Twitter followers and have posted teaser videos on their social media accounts. Alonso is recognized as one of the greatest drivers in the world while Johnson is considered to be one of the best NASCAR drivers in history.
If it is a ride swap, it wouldn't be the first time a NASCAR and F1 racer took each other's cars for a spin. At Watkins Glen in 2011, Tony Stewart and Lewis Hamilton tested each other's vehicles. In 2003, Jeff Gordon and Juan Pablo Montoya swapped at Indianapolis Motor Speedway.
https://twitter.com/alo_oficial/status/1039879831058448384
Two Champions. Two Cars.@alo_oficial pic.twitter.com/TQyR9Lx0q7

— Jimmie Johnson (@JimmieJohnson) October 22, 2018
To diehard race fans, these two videos are nothing but a taunt right now! What will they do next?!
Knaus no longer crew chief after '18
After 17 years and 81 wins together, Chad Knaus will become the crew chief of a new driver. Johnson's new man atop the pit box will be Kevin Meendering, who currently crew chiefs Elliott Sadler's JR Motorsports team in the Xfinity Series.
Knaus will join William Byron and the No. 24 team next year. Byron's current crew chief Darian Grubb will assume a new role at Hendrick as a technical director overseeing the organization's engineering program and development.
"Chad and Jimmie will go down as one of the greatest combinations in sports history," team owner Rick Hendrick said. "They defied the odds by performing at a championship level for longer than anyone could've possibly imagined. What they've accomplished together has been absolutely remarkable and will be celebrated for generations. This has been an incredible, storybook run.
"It's no secret that Chad and Jimmie have experienced their ups and downs over the years. They're fierce competitors, great friends and have immense respect for one another. They also fight like brothers. All three of us agree it's finally time for new challenges and that a change will benefit them and the organization."
Time for a new Ally
A few months ago, Lowe's announced that it wouldn't return to sponsor the No. 48 team or anything else NASCAR-related after this season. The home improvement company has been the only sponsor Johnson has ever had in the Cup Series. When it said it wouldn't be back in 2019, it rattled the NASCAR world.
Are Johnson's days as a racer numbered? Can he find a replacement? What does this say about NASCAR's current economic state?
All these were thoughts to ponder after the news. But Ally Financial will sponsor the No. 48 car in every race over the next two seasons. Finding full-time sponsorship today is rare. Even the best teams struggle to find a partner for more than a handful of events. But Johnson's résumé has allowed him to reel in a new company. Ally has a history with Hendrick — the firm was originally GMAC, which served as a primary sponsor for Brian Vickers in the mid-2000s and a secondary sponsor for the organization for more than a decade.
The No. 48 team will look different on-track and sound different over the radio next year, but Johnson's No. 48 team will nonetheless continue for at least another two years. The hope for No. 8 will stay alive.
Photo: Sarah Crabill / Getty Images