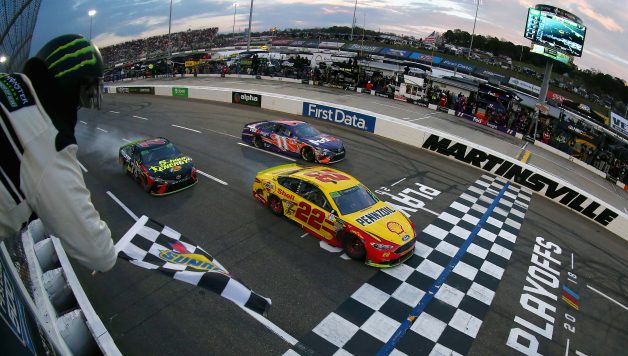 Logano beats Truex at Martinsville with controversial bump-and-run
RIDGEWAY, Va. — Joey Logano aggressively put the bumper to Martin Truex Jr. in the final corner of the First Data 500, but it was a completely reasonable move.
Logano led 309 of 500 laps at Martinsville Speedway on Sunday and clinched a Championship 4 berth for the NASCAR Cup season finale at Homestead-Miami Speedway.
He and Truex were the class of the field, and it was clear that one of them would win. It came down to a dramatic, side-by-side battle in the closing laps and Logano did what he had to do to win, even if it meant upsetting the defending series champion.
"Obviously, (Truex and I) will talk someday. When? I don't know yet," Logano said. "We didn't crash. We've seen that move here how many times? … That's what this racetrack is all about. I would be expecting the same thing if the roles were reversed. I would be frustrated if I were him also.
"Every scenario is different, right? If I spun him out, I'd feel pretty bad right now. … The fact that he still finished in the top-three — we had a hard race and we raced the heck out of each other — the fact that he bumped me a couple of times, I get it."
Truex said Logano made a "cheap" move. His argument was Logano didn't race him as clean as he ran Logano.
"We raced them all clean and passed them clean all day long," Truex said. "I pretty much had the feeling on the backstretch that was going to happen. There was nothing I could do about it. I can promise you I won't forget what he did.
"I get that he wants to go to Homestead. I don't know. I don't race like that, and I don't appreciate when others race me like that. Just to deliberately knock me out of the way I thought was a cheap shot. … It's a cheap win. I hope he's proud of himself."
Logano's team owner Roger Penske said, "That's as clean as a shot you can have." He felt Truex's comments were unfair and that he might be complaining more than he should.
"He's a racer and should know better than to say that," Penske said. "I didn't hear Kyle Busch or (Kyle Larson) have any kind of conversation after (Chicagoland). … As far as I'm concerned, that's just a comment that I don't think we deserve. We'll race him day after day. Stirring some controversy that he's trying to spread. From my perspective, Joey drove a great race."
Kurt Busch and Denny Hamlin chimed in their opinions of the finish. As Busch put it, Logano "leapfrogged" him in the standings with the victory, but believes his move was nonetheless warranted.
"Truex was probably being more of a gentleman, but he has to know the 22 has to win to advance through the playoffs," Busch said. "I needed a different outcome with the winner but I am really glad that Joey won and has his ticket to Homestead, it just makes our road tougher."
Hamlin said he saw the move coming as they raced down the backstretch on the final lap. He wouldn't tell if it was a fair move or not, though. He believes it comes down to who you root for.
"I think it just depends on who your favorite driver is," Hamlin said. I think the people that didn't like (Logano's move) don't like Joey and the people that do like Joey. I think it's just all about who you are and whether they like you or not. I think the 22 saw he was in a vulnerable position.
"They were side-by-side for two laps, and the 22 is on the outside. That's a position where you can't do anything to the leader. It looked to me like he conceded the spot on the white flag lap. Once I saw that he conceded the spot and followed behind him, I knew that we were in for an exciting Turns 3 and 4."
Truex really doesn't have too much to grumble about. He is tied with Kevin Harvick for third in the playoff standings and both would advance to Homestead if the Round of 8 ended today. Kyle Busch leads the points but Logano is the only one secured for the title race.
Photo: Sarah Crabill / Getty Images