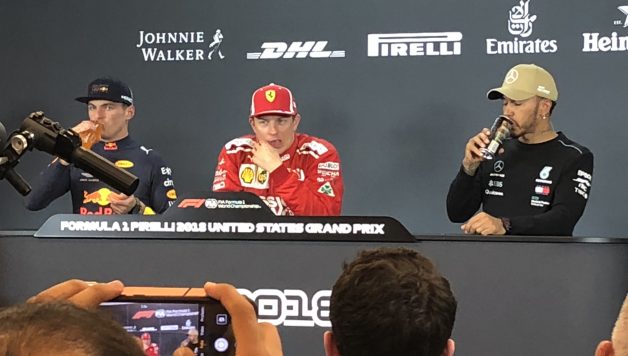 Sunday: A USGP analysis and final thoughts about covering F1
AUSTIN, Texas — Kimi Raikkonen's 113-race winless streak ended at the Circuit of The Americas on Sunday as Lewis Hamilton nearly secured his fifth Formula One World Championship.
Hamilton started on the pole but finished third behind Max Verstappen, who began the United States Grand Prix from 18th. Initially, he qualified 15th because he hit some curbing during Q2 on Saturday and damaged his rear suspension. Then he was assessed a five-place grid penalty for a gearbox change, but the two Toro Rossos started from the last row after switching some Honda engine components.
Raikkonen's Ferrari was faster than Hamilton's Mercedes from the start. Both ran the majority of the race on soft tires, and the Finn held off Verstappen and the championship leader in the closing laps.
Hamilton almost clinches
Hamilton and Verstappen tightly battled for second with three laps to go. Sebastian Vettel was running fifth, and Hamilton needed to finish second to clinch the title. Ultimately, Hamilton pushed the issue too hard, ran off-course for a moment, and was unable to reel in the Red Bull driver. Despite not finishing second, Hamilton isn't concerned with the driver standings.
"Championships are not won by fighting and making silly mistakes," Hamilton told ESPN Albuquerque during the post-race press conference. "If that was me and Seb, I would've been a lot tighter and more aggressive. If we were fighting for the championship for example, but there was no need.
"The key was to make sure I at least finished ahead of Seb, and for me, it doesn't matter when you win the championship as long as you get it done.
"Ultimately we wanted to win the race today, and going backward two steps is not a good result. But as I said, you can't win them all; you can't always get them perfect."
Hamilton has a 70-point lead with three Grands Prix remaining. Regardless of Vettel's result at the Mexican Grand Prix next weekend, the Briton would clinch the title with a finish of seventh or better.
Raikkonen's relief
During the cool down lap, Raikkonen shouted," Finally!" to his team over the radio. After not winning for more than five years, he must've felt relief to end the drought. But he says the victory doesn't change anything about his career, and it was probably more satisfying for his supporters than himself.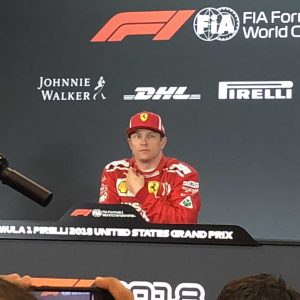 "It was a much bigger victory for other people," he said.
Raikkonen says that a win with Ferrari wasn't something he stressed. And with his tenure at the Italian organization concluding next month, he didn't feel he had to prove himself before switching teams in 2019.
"If (the win) comes, it comes. It doesn't change my life one bit," he said.
Raikkonen will race for Sauber next year, and he'll be running mid-pack. But that doesn't bother F1's "Iceman," who began his career with the Swiss team.
"I think that people don't understand I'm very happy where I'm going," Raikkonen explained. "In my time with Ferrari, I won the championship with them, I won races with them. For me, as a driver, I want different challenges, I want different things.
"I'm actually very happy to go there. It's roughly 40 minutes from my home. I'm sure my family will be happy, and I'm happy to be with my family. I think it's probably the best thing."
Well, how was it covering F1?
I seriously didn't know what to expect coming into the weekend. I didn't know who I'd talk to or what they'd say. And there wasn't anyone I knew in the media. I spent quite a bit of time alone.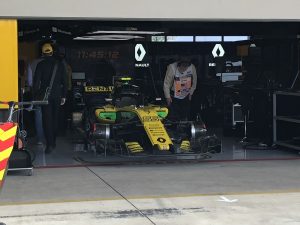 Walking on pit road before the race was the best part of the weekend for me. I was able to get closer to the cars and photograph them while they were in the garage stalls. Getting close to them had eluded me throughout the weekend, so I was glad that I could look at them from a few yards away.
Another thing that was challenging was getting interviews. As I wrote yesterday, I learned about some media policies in F1 that make talking to drivers pretty tricky.
I was able to ask Hamilton a question during the press conference, and I was pleased with the response he gave me. Other than that, I didn't get to speak with any other F1 driver during the press availabilities. That was a little frustrating.
Would I come back to F1? Without a doubt, I would. F1 is the pinnacle of auto racing. Yes, NASCAR features the best stock car drivers, and the Monster Energy Cup Series is a prestigious level of motorsport, but it doesn't have the worldwide following that F1 has.
In the F1 paddock, drivers are treated like celebrities. When one of them appears, fans and media immediately swarm them to snap a picture or get an autograph. Dale Earnhardt Jr. is really popular in NASCAR, right? Well, it's almost as if 20 Dale Juniors are walking through the F1 paddock.
What's next?
For F1, there are three Grands Prix. Hamilton will likely tie Juan Manuel Fangio for five career championships in Mexico next weekend. He'll pass Alain Prost and Vettel, who each have four.
For me, I return to NASCAR at Martinsville Speedway. I'll be at three of the four final NASCAR weekends, including Phoenix and Homestead-Miami.
My editor David Swope and I had the mindset that this weekend would be a learning experience. It was a way to test the waters of Formula racing, similar to what we did at the New York City ePrix weekend in July. If anything, we'll be more prepared the next time F1 is on this side of the pond. Hopefully, I can return to COTA or visit Montreal for the Canadian GP in 2019.
Well, it's hard to believe there's only a month left in the racing season already. I've been around the country and seen a variety of races throughout the year. I couldn't say this weekend was the most fun I've ever had at a racetrack, but damn, it sure was memorable.
Photos: John Haverlin / ESPN Albuquerque