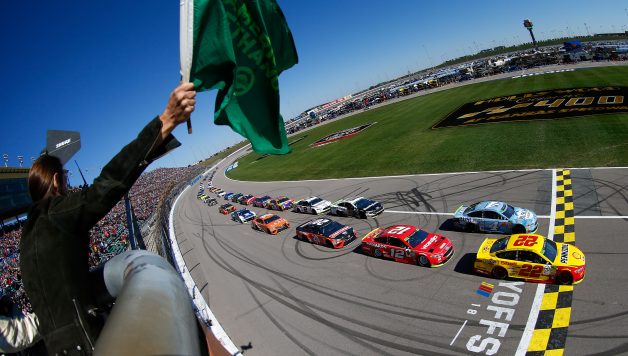 Haverlin's Hot Take: Predicting the Cup Series' Championship 4 drivers
RIDGEWAY, Va. — Four races remain in the NASCAR Cup Series season, and the Round of 8 will begin at Martinsville Speedway on Sunday.
Eight drivers still have a chance to advance to the championship race at Homestead-Miami Speedway next month, but who will it be?
Here are the current playoff standings:
Kyle Busch (+40 above the cutoff)
Kevin Harvick (+39)
Martin Truex Jr. (+23)
Chase Elliott (+3)

Clint Bowyer (-3)

Joey Logano (-3)

Kurt Busch (-3)

Aric Almirola (-12)
The top two
Harvick and Kyle Busch have been the best drivers all year. Each has made it to Homestead three of the last four years, and it'd be a disappointment if they didn't make it again.
Both wheelmen have won at the three Round of 8 tracks — Martinsville, Texas, and Phoenix. Busch won the Martinsville playoff race last year and won at Texas earlier this season.
Harvick won the Texas playoff race in 2017 and is an ace at the desert oval with nine victories. Both can win at any of these venues, but realistically, they can likely make it to Homestead on points.
Truex? Eh.
Furniture Row Racing is in a weird position right now. The team will cease operations in less than a month, but it's still contending for a title. The No. 78 hasn't shown the speed in the playoffs to make me think it can win any of the four races left, though. Truex hasn't led a lap since the Charlotte Roval race a month ago and has finished 14th or worse in three of the last four events.
Playoff points helped the No. 78 advance to the Round of 8. Otherwise, he probably wouldn't have made it this far. The organization knows its end is near, and it's hard to believe that hasn't taken a toll on the team's morale as Homestead approaches.
Elliott? Yes!
Chase Elliott seems to have the most momentum right now. He won two of the three races in the Round of 12 and nearly won the Martinsville fall race last year until Denny Hamlin took him out late in the running.
The No. 9 Chevrolet has come to life in the last few months. The Chevy teams struggled early on because it took time to adjust to the new Camaro bodies, but this Hendrick Motorsports squad seems to have figured it out. Other than maybe Kyle Larson, Elliott has carried the flag for the Bow Ties. Elliott's not even 23 years old yet, but he's driving like a veteran. He'll be at Homestead.
What about Bowyer, Logano, Kurt Busch, and Almirola?
Points-wise Bowyer, Busch and Logano all three marks behind the cutoff. This is where playoff points could prevail. Bowyer has two wins and 11 playoff points. Logano has nine points, and Busch has eight. Almirola has six playoff points and is 12 points behind the cutoff. These four drivers must feel the pressure because it's such a tight battle and they know that winning a race is the only way they can secure their title hopes.
I've said Kyle Busch, Harvick, and Elliott will advance to the final four, and Truex will be eliminated. So, which of these four drivers makes it to the championship race? I say Kurt Busch.
Busch is a former champion and a former winner at all three Round of 8 tracks. Experience will prevail for him. When you look at Stewart-Haas Racing, you think Harvick, because he's been its best driver the last few years.
With all four SHR cars in the Round of 8, it's fair to think that two of them will make it to Homestead. Busch has more career wins than Bowyer and Almirola, and he has more top-10s and poles this season. I'll admit it's hard to think Logano will be eliminated; he's been in the Championship 4 twice and has won at Texas and Phoenix. But Team Penske has been a step behind SHR pretty much all year, so that's why I believe he'll be knocked.
Photo: Jonathan Ferrey / Getty Images