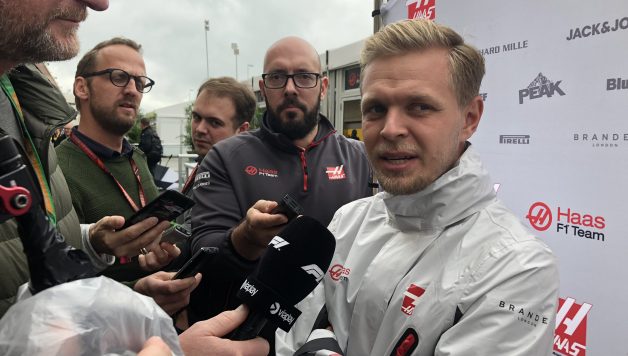 Saturday: F1 driver interviews are difficult to arrange, and it's frustrating
AUSTIN, Texas — It's 7:30 p.m. A lot of press people have already left the Circuit of The Americas Media Center, but I'm still sitting at my workstation trying to think of something to write about Saturday's events.
Sebastian Vettel was fastest in Free Practice 3, and Lewis Hamilton won the pole with a record lap time, but I didn't want to write about that. I could write practice and qualifying recaps from home, and it'd take me 10 minutes to do. I'm at the U.S. Grand Prix — I'm going to write about something that can't be watched on television. I want to provide some perspective.
My editor David Swope calls me. He can tell I'm sort of dejected on the phone, and that's because I didn't get to interview any F1 drivers or team executives. I don't have anything juicy to write. I haven't been chosen to ask questions in the press conferences, and several drivers declined to talk with me.
One of those drivers was George Russell. Russell is Mercedes' 20-year-old reserve driver. He currently leads the F2 championship and earlier this week, it was announced that he'd pilot one of the Williams cars in 2019.
He was leaving the paddock when I caught up with him, and initially, he agreed to talk with me. But then he realized I was a reporter, and he changed his mind. Why?
It turns out he and any other Mercedes driver can't talk to media personnel without authorization from the team's PR people. It's a policy that must be abided, and he apologized for not being able to answer my questions.
Yesterday, I had a similar occurrence happen with Daniel Ricciardo, who drives for Red Bull Racing. I went up to him, asked if we could talk for a minute or two, and he said no. Ricciardo said I needed to speak with the PR person to arrange an interview.
I don't know if this is a rule enforced by the FIA or if each team has its own media policies, but this is no good. It's been pretty difficult to talk to anyone. Every driver is quickly swarmed by cameras and television people in the paddock. Your chance of getting to ask a question is slim — especially since the drivers are basically held on leashes by PR.
I've never had this issue in NASCAR or IndyCar. I've found that drivers are usually willing to talk with reporters regardless of whether the PR person knows about it or not. I say "usually" because there have been some instances when drivers completely ignore me, but that's for a story for a different day.
I honestly don't like griping over press availabilities, and I didn't have fun writing about it here, but the media policies in F1 need to change. Hopefully, Liberty Media, which bought F1 before the 2017 season, has plans to open things up in the future and give reporters more freedom when they're at the track. With my credential, I'm not even allowed to stand on the pit lane, so I can't get up close to see the cars. I understand it's a safety issue, but it's still kind of frustrating.
Anyway, tomorrow is race day. Believe it or not, I'm pretty excited about it. Hamilton has the chance to clinch his fifth title, so that's pretty significant. If he outscores Vettel by eight points, the championship is his. And hopefully, I'll have something better to write about.
Photo: John Haverlin / ESPN Albuquerque