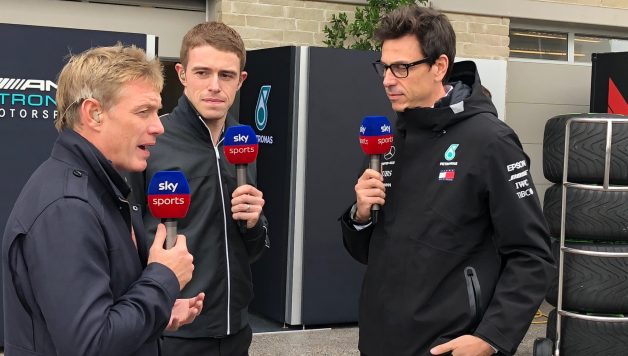 AUSTIN, Texas — I've been fortunate to cover a variety of auto racing series around the country, but I've never been to Formula One until this weekend.
F1 competes at the Circuit of The Americas in the heart of Texas, just a few miles southeast of the state's capital. The track was designed by Hermann Tilke, a racing driver and engineer who is responsible for the architecture and reconfiguration of a few dozen international circuits including Sepang, Bahrain, Shanghai, and Sochi. COTA has hosted the USGP every year since 2012.
The venue itself matches a lot of characteristics with the other tracks F1 visits. It has elevation changes, long straightaways and several technical sections where steering and braking are crucial.
F1 has competed on several street courses in its history of U.S. Grands Prix, as well as Watkins Glen International and Indianapolis Motor Speedway's road course. These tracks don't host F1 events anymore, though. Watkins Glen doesn't meet the safety requirements needed to host an FIA-sanctioned event, and Indy was always a weird place for F1 cars, which aren't designed to race on banked turns.
COTA has unsurprisingly become America's No. 1 circuit for international motorsports. This could be the permanent home of the USGP — something that has eluded F1 for decades.
Arriving at COTA
When I got to the track this morning, it was torrentially raining. The roads leading to it were flooding, my rental car's headlights couldn't shine bright enough, and the windshield blades couldn't wipe fast enough. Oh, and the power was out in the credential office.
I was impressed by the track's media center, though. COTA's media center is state-of-the-art with separate rooms for press conferences, dining, and writing. It's also a few hundred feet away from the paddock, which is convenient.
In the paddock, I saw some camera crews waiting outside the Mercedes and Ferrari tents. Mercedes boss Toto Wolff was walking into his team's tent when I noticed him. Over the next few minutes, a couple of drivers including Valtteri Bottas, Kimi Raikkonen, Sebastian Vettel and world championship leader Lewis Hamilton walked from their tents into the garage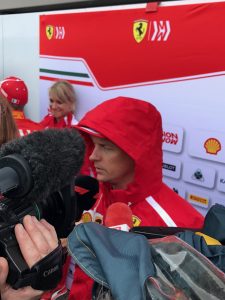 Catching a glimpse of them was a bit difficult. Camera operators instantly swarmed them and you'd be lucky to get a halfway decent photo of anyone. But what was even harder was finding a good place to watch the cars during the first practice.
I wandered along the frontstretch trying to pick out a good location to take a few photos and videos of the cars. The security at the track is pretty strict — you have to scan your credential to get in and out of the paddock as well as the deadline room.
The best place to watch the cars was behind a chain-linked fence at the start of pit road outside the media center. You can hear the cars coming out of Turn 20 and they'd either go screaming down the frontstretch or crawling into the pits.
Press conference
Friday's presser featured a few team bosses. Gene Haas, Zak Brown, Maurizio Arrivabene and Claire Williams were brought into the media center. It's a bit strange because you're not supposed to have your phones out. At a NASCAR or IndyCar press conference, everyone has their phone out to take pictures or record audio. It felt like I was at Mass or in high school, which isn't necessarily a bad thing, though. It forced me to pay attention to what was being said.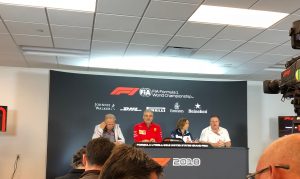 I raised my hand a few times to ask a question but was never picked. Of note, Brown said McLaren will not compete full-time in IndyCar next year. Williams said the team is undecided on who will be George Russell's 2019 teammate. This indicates that Lance Stroll and Sergey Sirotkin are unlikely to return.
When the presser was over, I went up to the FIA moderator to introduce myself and give him my card. He apologized for not choosing me. Arrivabene spoke for quite a bit as the presser came to an end, and there wasn't enough time for any additional questions.
I somewhat expected not to be picked. I'm one of the youngest people in the media center and literally, no one knows who I am. That's OK, though. My goal is to make connections while I'm here. Handing out business cards and talking to other journalists is all I can do at this point.
I met some Red Bull folks
About an hour before Free Practice 2, I wandered through the paddock again. Daniel Ricciardo was the only driver I could find, and he was posing for photos with fans. I asked if I could talk to him for a minute or two, and he declined.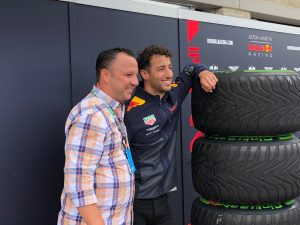 He wasn't trying to be snobby or anything, though. I think he was dedicating his time to the fans and didn't want to be interviewed. He was friendly and had a smile on his face, as he usually does. He invited me into Red Bull's tent so I could find the PR representative. I let her know that this is my first time covering an F1 weekend and everything is a little foreign to me.
The tents are where the team personnel hangs out. Max Verstappen was in there eating lunch and staring at his phone like a typical 21-year-old. Ricciardo was talking with team members and sharing a few laughs. It's a relaxed atmosphere, unlike the paddock during race day.
F1 vs. PS4?
The most interesting thing I took away from today's media availabilities is Arrivabene's comments about attracting a younger fanbase. This topic certainly isn't new, and it isn't just an F1 problem — it's a motorsport problem.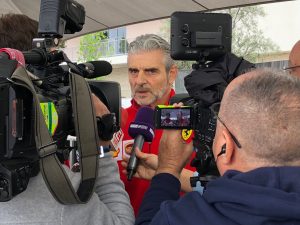 "We never focused our attention on the audience and the audience, little by little, became older," Arrivabene said. "Our competitor today, in my opinion, is the PlayStation. If you look at Grand Turismo (a popular racing video game), most probably we need to switch our minds and focus our attention on our competitors.
"Is PlayStation a competitor? In my opinion, yes. What do you have to do to beat the PlayStation? You have to do something that is more interesting, most probably."
Aging fanbases are especially problematic with auto racing — more so than probably any other sport. You hear about this in NASCAR and IndyCar pretty often. In Formula E, the cars race on street circuits in major cities hoping to attract new people, including children.
Even the racing world's pinnacle has this issue? Yeah, that's a little surprising to me. But Arrivabene has a point. In a lot of ways, F1 has become too predictable, and therefore it isn't as inviting to newer fans as it could be.
"We need to go back and relaunch the sport," he said. "Launching the sport is kind of complicated and a complex situation, but it's something that we absolutely need to do.
"If at a certain point you have an audience that is becoming older and older, and you work to retain what you have and [not what] to acquire — and your attention is less focused on acquiring the younger generation — this means you have a problem."
Photos: John Haverlin / ESPN Albuquerque