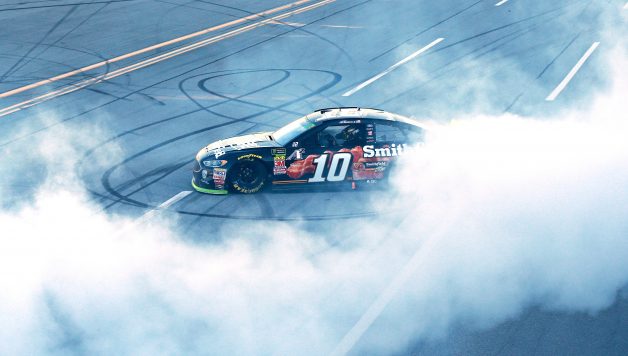 Aric Almirola, Stewart-Haas Racing deservedly win Talladega playoff race
If a Stewart-Haas Racing Ford didn't win at Talladega Superspeedway on Sunday, it would've been an utter disappointment. SHR cars ran first through fourth most of the day. The quartet qualified in the top-four positions and won all three stages of the 1000Bulbs.com 500.
Ultimately, Aric Almirola won the race after running behind his teammates for all but a third of a lap. Kurt Busch led a race-high 108 laps but ran out of fuel in Turn 4 on the final lap.
Almirola's redemption
The No. 10 led only one lap, but it was the most important one. In his first year with SHR, he's been in contention a handful of times but has come up short on every occasion.
He was two turns away from winning the Daytona 500 eight months ago, but Austin Dillon made contact resulting in a crash for Almirola. Dillon won the race.
Then Almirola led the closing stages at New Hampshire before a caution caused by teammate Clint Bowyer took away his opportunity in July.
Then a similar, yet more dramatic, instance happened again last weekend at Dover. Bowyer wrecked within 10 to go, Almirola pitted during the caution, and Chase Elliott took the win after leading only 11 laps.
This week, Almirola can finally say his 149-race winless streak has ended — and it wasn't a fluke. He hadn't won since the rain-shortened Daytona race in July 2014 when he was driving the No. 43 for Richard Petty Motorsports. Now he has two career wins and will advance to the Round of 8 for the first time in his career.
Kurt Busch critical of NASCAR's officiating
On the final lap, Matt DiBenedetto and Elliott had significant crashes that could've resulted in a caution ending the race, but NASCAR let it run green to the finish.
And before that, the field was kept under yellow-flag conditions for an extra lap to ensure the track was ready to go green again.
Busch was not a fan of either call by NASCAR. He led the field to the white flag through Turns 1 and 2, which was where the wrecking happened. Then in Turn 4, he ran out of fuel and ended up finishing 14th despite being the leader with only a couple hundred yards to the finish line.
"There were two human element calls there at the end," Busch said in a post-race interview with NBC. "I don't know why we ran an extra lap under yellow and why there wasn't a yellow for the dispatch of an ambulance.
"I've already stated that fact so you guys can all go do your research and find out what was supposed to be the call. … I've been here at Talladega before — running second, third or fourth — trying to chase down the leader, and once the ambulance has to be dispatched, the race is over."
NASCAR issued the following statement regarding the non-call:
"We were closely monitoring each car involved and were actively communicating with spotters and safety trucks in turn 1. All cars were able to either roll off under their own power or signal they were clear. As always, we make every effort to end under green for our fans in the stands and at home, which we did."
SHR's immense domination
I can't recall ever seeing such a dominating performance by a racing organization in the NASCAR Cup Series. Joe Gibbs Racing comes to mind when the Toyotas controlled the field in the 2016 Daytona 500. Team Penske has a knack for running well at the restrictor plate tracks, but SHR was in a league of its own.
Almirola and Bowyer finished first and second while Busch and Harvick were 14th and 28. But don't let those results fool you. The team deserved to finish first through fourth because it was that good.
As the race wound down, the field struggled to build up draft momentum to make a run at the four cars out front. Penske drivers Brad Keselowski and Joey Logano tried to get the midpack cars organized in a single-file line, but Paul Menard, running fifth, seemed content to finish where he was. He side-drafted his technical teammates and it really only benefitted SHR as the foursome broke away.
The race was relatively calm, but SHR's dominance made it worth watching to the end. There weren't any spectacular wrecks, but the final restart made the first 190 laps easy to forget.
Blaney and Harvick ran out of fuel. A lap later, the DiBenedetto and Elliott wreck happened, and Busch was short on fuel. A tame event ended with a dramatic finish. It's nearly impossible for a team to finish in the top-four positions, but SHR almost did it. For that, I applaud them.
Up next: Elimination at Kansas
The Round of 12 will end at Kansas Speedway next weekend, and four drivers will be knocked out of championship contention. Right now, Almirola and Elliott are the only drivers locked into the Round of 8.
Harvick, Logano and Kyle Busch are in pretty good shape. They'll likely just need top-15 finishes at the 1.5-miler to advance. Kurt Busch, Bowyer, and Martin Truex Jr. are currently in the top-eight, but they can't afford a bad day in the Midwest.
Keselowski, Blaney, Kyle Larson, and Alex Bowman are on the outside. Larson was eliminated at Kansas last year after suffering an engine failure. Keselowski is 18 points behind Truex for eighth. If either Keselowski or Truex fails to advance, it'd be an upset as they were both Championship 4 contenders last year and have won a combined seven races this year.
Photo: Matt Sullivan / Getty Images