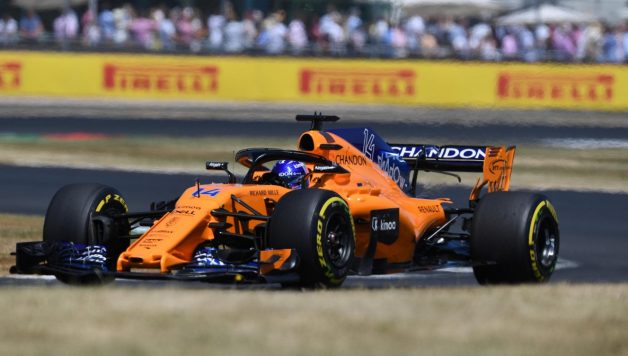 Mercedes
Lewis Hamilton and Valtteri Bottas will both return to the Silver Arrows in 2019. Hamilton is on the brink of his fifth world championship while Bottas is still searching for his first win in his second year with the team.
Hamilton has a 67-point lead in the title with four events remaining. Autosport reported last month that he would like Mercedes to start utilizing its 2019 concepts for this season. The Briton thinks team engineers should use new aerodynamic setups to help get a head start on next year.
"I am pushing the guys because they have to sign off things now for next year's tests already," Hamilton said. "I'm saying, 'Can you bring things forward? Please make this component which takes a lot of work, but I might get it to the race — because I want to feel it on a race weekend, rather than next year in February or March.'"
Ferrari
Sebastian Vettel and Charles Leclerc will be Ferrari's drivers next year. Leclerc and Kimi Raikkonen will swap seats as the Finn returns to Sauber, where he began his F1 career.
After winning the 2017 Formula 2 title, Leclerc has impressed in his rookie campaign. He's earned points in seven Grands Prix and is 15th in the championship with 21 points. Teammate Marcus Ericsson holds a tie with Lance Stroll for 17th with six points.
It appears Ferrari will finish runner-up in the Constructor's championship for the second year in a row. The Italian team, led by Vettel, has won five races this year.
Red Bull
Max Verstappen will be joined by a new teammate next year as Daniel Ricciardo departs for Renault. Pierre Gasly will be promoted from Toro Rosso to drive in Ricciardo's place, making the 'senior team' not so senior at all. The combined aged of the drivers at the start of next season will be 44.
Red Bull is also ditching Renault power units in favor of Honda. Verstappen already thinks the team won't be a threat for the 2019 title. Changing a driver and a power supplier will cause Red Bull to endure a transitional year.
"At first we will need to take some more steps, but hopefully at the end, we will be close," Verstappen said in August. "The year after, we should be out in full force.
"I think [it will be a development year], but in a positive way.
"We will, in any case, know what we will be getting and which steps are being taken."
Renault
Ricciardo will join Nico Hulkenberg as Renault's driver pairing next year. Although he probably won't see immediate results, Ricciardo is confident the team is headed in the right direction. Going from the 2018 Red Bull car to the 2019 Renault car is going to look like a downgrade as he probably won't win races. However, the team — which is fourth in the constructor's standings — could put up a fight for the No. 3 spot against Red Bull and its Honda-powered cars next year.
Haas
America's team will retain Romain Grosjean and Kevin Magnussen next year. Grosjean has been with Haas since its inception in 2016 and Magnussen came aboard in 2017. Leclerc was rumored to join the team since he is under Ferrari's control, but team boss Gunther Steiner said Ferrari doesn't decide what Haas' lineup would look like, despite using Ferrari power.
McLaren
McLaren will have two new drivers in 2019. The team will drop second-year racer Stoffel Vandoorne — who is currently without an F1 ride –, and Fernando Alonso will race somewhere else. Alonso has drawn so much attention that there's virtually a Silly Season entirely dedicated to him.
Lando Norris and Carlos Sainz will be McLaren's 2019 wheelmen. Norris is currently a reserve driver for the team and is competing for the F2 championship. Sainz will depart Renault to join the British team.
Force India
Lawrence Stroll invested in this team and rebranded it to Racing Point Force India. It's expected that his son Lance will take over one of the rides and be paired with Sergio Perez for next season. Lance Stroll has spent his first two years in F1 with Williams but has been at the back of the grid most of the time. Joining Force India would give him a better chance to earn points on a consistent basis.
So what happens to Esteban Ocon? That's the biggest question of the Silly Season right now. He's tied with Mercedes, and it seems his best chance to compete in the 2019 F1 season would be with Williams should he remain in his contract.
However, he could land a ride with Toro Rosso if the team decides to drop rookie Brendon Hartley. But he'd need to terminate his deal with Mercedes.
"We have a seat. Mercedes doesn't have a seat," Red Bull chief Helmut Marko told Sky Sports. "If he's free from all contracts, we could discuss it. I mean all contracts."
Toro Rosso
With Gasly going to Red Bull, Toro Rosso has decided to unite for a third time with Daniil Kvyat. Kvyat was a part of the junior Red Bull team in 2013 and 2014. Then, he was brought back in 2016 when Red Bull demoted him in favor of Verstappen. The Russian is currently a reserve driver for Ferrari.
If Hartley is kept, he'll be paired with Kvyat. But as mentioned with the Force India news, Ocon could be a potential candidate for a ride. Hartley is 19th in the driver's standings with two points.
Sauber
Raikkonen and Antonio Giovinazzi will drive for Sauber next year. Ericsson has underwhelmed, and Leclerc is receiving a chance to contend for wins in 2019 with Ferrari equipment. Giovinazzi, the Ferrari junior driver, is backed by Sauber's title sponsor Alfa Romeo. He made two starts with the team in 2017 while Pascal Wehrlein recovered from a preseason back injury.
Williams 
Williams expects rookie Sergey Sirotkin to return, but Stroll's anticipated departure has let rumors run rampant. Could it be Robert Kubica, who thought he'd be in Sirotkin's place at this time last year? George Russell — F2's championship leader — is a Mercedes driver and could be a candidate. Ocon is obviously a candidate.
"We are going through an intensive evaluation process. We want to make good decisions going into 2019," team deputy Claire Williams told Sky Sports. "We are not quite there yet."
Williams has been a backmarker without Felipe Massa and Bottas. Stroll has underwhelmed while Sirotkin has earned a mere one point. The team is last in the Constructor's championship.
Photo: Simon Galloway / Sutton Images