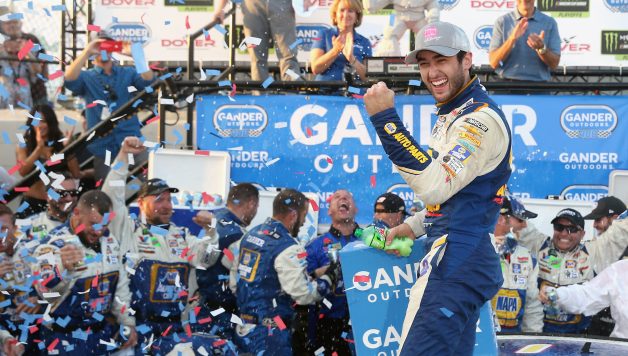 Chase Elliott capitalizes on Stewart-Haas miscues to earn second career win
DOVER, Del. — Stewart-Haas Racing Fords led 351 of 404 laps in the Gander Outdoors 400 on Sunday, but Chase Elliott's 11-lap lead was enough to give him win No. 2 of his Cup career.
Kevin Harvick started from the front row after qualifying was canceled and led 286 laps. Aric Almirola led 64 laps, and Clint Bowyer led one. Respectively, their finishes were sixth, 13th, and 35th.
Harvick had a valve stem get knocked off one of his wheels during a late green-flag pit stop. He was clearly the dominant car all day, but couldn't fully recover.
Bowyer suffered a suspension issue with less than 10 laps to go. Teammate Almirola was in the lead, and similar to what happened at New Hampshire nearly three months ago, a caution caused by Bowyer cost the No. 10 an opportunity to win.
On the ensuing restart, Almirola raced through Turns 1 and 2 from the second row but made contact with Brad Keselowski on the backstretch. It caused a five-car pile-up and a red flag period.
When the field returned to green, Elliott led the field on older tires and held off Denny Hamlin for his second win in two months. Ultimately, the unfortunate circumstances that SHR was dealt enabled the 22-year-old to win at Dover International Speedway in a race he nearly one a year ago.
"We struggled for obviously a couple of years to win a race, and they said, 'Oh, once you get one, they all come easier,' and I was like, 'Oh, there's no way that's true at all," said Elliott. "Certainly, didn't come easy today, and just so glad we could get a win. Last fall was such a tough race for me, and as I've said to a bunch of people, that was probably the toughest day of my career, and just to be able to come back and kind of put those things behind you and prove that you belong is very gratifying."
Almirola's defeat was probably more gut-wrenching than Harvick's. Harvick is an established veteran who has one and lost his fair share of races. He's never been a mid-pack driver, and surely, he'll have other wins later in his career.
But for Almirola, he spent a majority of his Cup career with B-grade teams and only has one win — a rain-shortened July Daytona race, which came in 2014. In his first year with SHR, he's had moments where it looked like he could be a regular contender, and Sunday's race was indeed one of those days.
Harvick and Bowyer were simply handed situations they couldn't control behind the wheel.
"Best I can tell a lugnut knocked it off," Harvick said. "I would have rather won. … I don't really care about points."
Said Bowyer: "I'm really disappointed. I'm frustrated with our day. Obviously, we had a very fast racecar. I got tore up passing a lapper and then all of a sudden we had a loose wheel, I think it was a loose wheel.
"I'm just sick for Aric. He had that race won. It was his win, and unfortunately, his teammate had trouble and took him out of it."
Elliott knows the feeling of defeat Almirola endured but felt no sympathy for the 34-year-old driver.
"You never know if anything is yours until it's over with," he said. "Certainly, felt like we were in a good position with those guys staying out. We had a couple of rows of cars behind us that were also on the same strategy as us, so that makes you feel better about it. Does it make you confident, like you know you're going to win it? No, but it makes you feel better about it."
Elliott's predecessor and Hendrick Motorsports mentor Jeff Gordon celebrated with the No. 9 team in Victory Lane. Gordon believes the group — led by his former crew chief Alan Gustafson — is capable of another deep playoff run this year.
"Now to be able to follow up that Watkins Glen win with a win here in the closing laps on a restart against a guy that had a little bit fresher tires, a guy you have some history with, I think this only elevates up his game and the whole team's game of being capable of now going and closing the deal," Gordon said. "It's tough when you've been so close and it doesn't quite work out, but all it takes is a couple of big events like this where you do close it to build that momentum and confidence to continue to go do that. Timing couldn't be better for Alan and Chase and this entire team."
Elliott is fifth in the standings and clinched for the Round of 8, which begins at Martinsville Speedway later this month.
Photo: Brian Lawdermilk / Getty Images