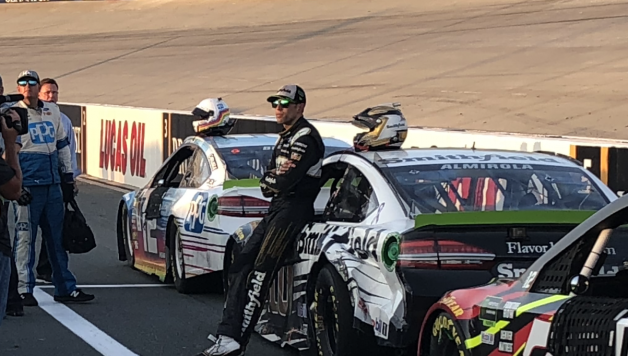 Aric Almirola: 'We should be over in Victory Lane, and we're not'
DOVER, Del. — When Aric Almirola climbed out of the car after the Gander Outdoors 400, he leaned his back against the wounded No. 10, put his cap on, and held his head down.
He stood like that for a couple of minutes after his 13th-place finish. No one interrupted him as he accessed the heartbreaking defeat he just endured. When he was done thinking about the race he led 64 laps in, he broke his silence.
"Just so close,'" he said. "I had the car to win and get in position. I don't know. It just seems to not go through. Frustrated, mad, angry. I could have been conservative and probably finished third or fourth like Kurt [Busch, Stewart-Haas Racing teammate].
"On the restart, I just tried to go to the top, where they weren't. The 11 (Denny Hamlin) moved up to block me and got tight of off [Turn] 2. I bounced off the fence and got into Brad [Keselowski], and tore up a bunch of racecars on the back straightaway.
"I feel like we should be over in victory lane celebrating, and we're not."
Almirola squeezed into the Round of 12 after Jimmie Johnson spun on the front chicane of the Charlotte Motor Speedway Roval last weekend. Had Johnson finished second instead of wrecking himself and Martin Truex Jr. for the win, he would be in Almirola's playoff position.
And if Almirola won Sunday's event, he'd be clinched for the Round of 8. But right now, he's tied for ninth with SHR teammate Clint Bowyer.
Almirola has had three races where he appeared to be one of the best cars this year. Before Dover, he won a stage at Chicagoland Speedway but finished 25th. At New Hampshire Motor Speedway, he finished third after a late caution caused by Bowyer cost him the lead. Bowyer again brought out the yellow at the 'Monster Mile' while the No. 10 was leading.
Chase Elliott won the race, despite not driving the fastest car. But sometimes that happens in racing. Elliott had a win taken away from him in this race last year, which he called a low point in his career. So does he sympathize with Almirola, who is still seeking his first non-restrictor plate victory?
"Uh, no," Elliott said.
Fair enough. Wins are hard to come by, and if you luck into one, don't take it for granted. Just ask last week's winner, Ryan Blaney.
Going forward, Almirola heads to Talladega Superspeedway with a 149-race winless streak. He's proven that he can outrun the best in the field in his first year with SHR. He's spent a majority of his Cup career in mid-pack cars, so he hasn't demonstrated the full potential of his abilities behind the wheel. If he continues to perform the way he has, he'll undoubtedly come across another win eventually.
Photo: John Haverlin / ESPN Albuquerque