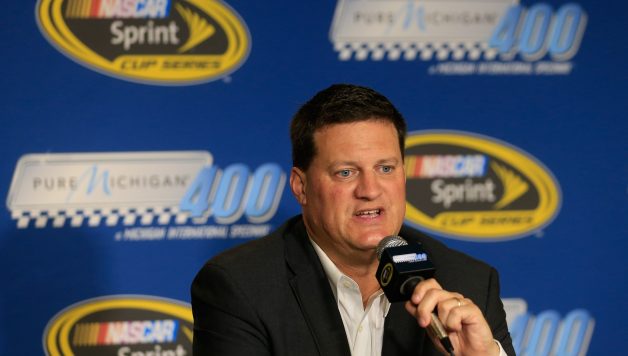 Haverlin's Hot Take: NASCAR taking leap of faith with 2019 rule changes
On Tuesday, NASCAR revealed the aero package that Cup cars will race in 2019. Although there's a lot of excitement about the rule updates from the sanctioning body, the new changes offer plenty of reasons to be cautiously optimistic.
First and foremost, the new package is designed to lessen horsepower and add downforce, which is a contradiction of NASCAR's effort to improve racing over the last few years.
In 2015, NASCAR experimented with high-downforce and low-downforce packages, and ultimately, the low-downforce package proved to offer the best racing.
Two years ago, the Cup Series used the low-downforce package for the entire season. It was highly praised for the first few months of 2016, but as teams learned more about the aerodynamics through wind tunnel testing, it began to lose its luster and racing became less exciting.
Last year, about 500 more pounds of downforce was taken away. The spoilers on the cars were shortened from 3.5 inches to 2 ⅜ inches for all non-restrictor plate races, and the outboard areas were reduced by three inches.
The Cup driver's council has wanted the cars to be more difficult to handle, which would mean that a driver's running position was dictated by less engineering and more natural talent behind the wheel.
The thing is, engineering continued to prevail. The top teams essentially have unlimited resources when it comes to finding the slightest advantage to make the car faster. Wind tunnel testing has turned all major forms of motorsport into a science, and it only benefits the rich teams.
Every racing organization's job is to do whatever it takes to win, but at what cost? Wind tunnel testing only serves the interest of the race teams. Fans couldn't care less about it, and many would say it's caused auto racing to become too predictable or even boring.
But one must give NASCAR credit for trying something completely out of its element. The sanctioning body can take away all the downforce it wants, but the best teams will still figure out how to cut corners and find advantages — no matter how seemingly insignificant they appear.
This year's All-Star Race provided a glimpse of what the racing might be like at the intermediate tracks. In May, the cars had 400 hp, restrictor plates, and aero ducts at Charlotte Motor Speedway. Cars had never used restrictor plates on a track other than Daytona and Talladega, and in effect, the racing on the 1.5-mile Charlotte oval was quite similar to what is seen on the superspeedways.
Next year, the cars will have about 550 hp and aero ducts that will essentially serve the purpose of a restrictor plate. The cars currently have about 750 hp and approximately 1,500 pounds of downforce.
The type of racing we see next year could be drastically different than what we've ever seen.
My prediction is that some of the bigger tracks (Auto Club, Michigan, Indianapolis, etc.) will produce more exciting racing and offer drivers more passing opportunities. The Xfinity Series raced a similar package at Indy and Pocono. The fields in that series spread out during green flag runs, but still had an element of 'snake' racing. In other words, the field — particularly at Indy — ran close but single-file. Drafting was crucial when cars attempted to overtake. Watching the Xfinity Indy race was sort of like watching an Indy 500 but at less than ¾ the speed.
The change is risky, but NASCAR is in a position where it has to rejuvenate fan interest. Naturally, there are skeptical individuals, such as Max Papis.
"I truly hope this will work 4 @NASCAR as the less power more Downforce FABRICATED show in IRL was what KILLED open wheel racing," Papis tweeted on Tuesday. "ENHANCING MEDIOCRITY instead of PRAISING EXELLENCE that started the migration of best USA drivers+Teams talent towards Nascar."
To be fair, the period Papis is referring to in his post is the late 1990s, when NASCAR was outgrowing its southern roots and becoming a nationally recognized sport. But he does have a point. This is a dicey move, and if it fails, NASCAR might never recover.
NASCAR hopes this package will encourage new manufacturers to join the sport. Less horsepower in the engines equates to fewer dollars that OEMs will have to spend to build a motor and enter the series. This new package — along with the inevitable fact that a Gen 7 car will be on-track in a few years — could serve NASCAR well.
"If you look at where the sport is today, I think the balance might be a little out of whack in terms of the importance of aerodynamics versus the driver and the car, and so the purpose of this is really to put it back in the drivers' hands," said Steve O'Donnell, NASCAR's Executive Vice President and Chief Racing Development Officer. "For us, it's really a focus on getting back to a true focus on the drivers and what NASCAR is all about — close side-by-side racing and trying to deliver more of that.
"We've got the best drivers in the world. We want to see them out there side by side. We've seen this package play out already, we've seen the best drivers and teams win."
Photo: Chris Trotman / Getty Images