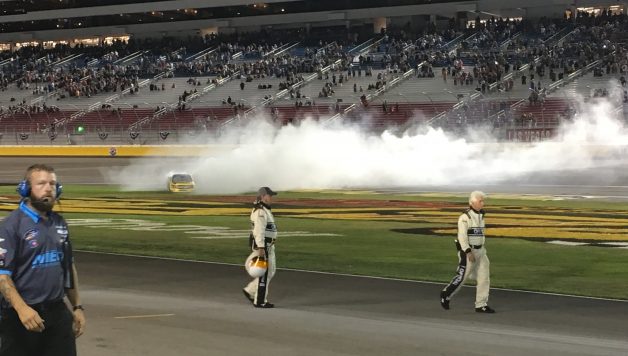 Grant Enfinger earns second career truck win at Las Vegas
By Spencer Hill
LAS VEGAS — The World of Westgate 200 proved to be the best show in town Friday night at the Las Vegas Motor Speedway. Fairhope, Alabama's Grant Enfinger might have flown under the radar coming into the night, but he proved to many why he is a definite challenger in the 2018 championship hunt.
Starting from third, Enfinger found his way to the front multiple times, leading 40 of 144 laps. But it was the final pit stop for the ThorSport Racing No. 98 team which put him in position to capitalize on their fast truck by choosing to go with a fuel-only stop.
Even with great track position, frustration set in for Enfinger as he dealt with three overtime attempts. On the final restart, Brett Moffitt had a fuel pickup issue and relinquished the lead away to Enfinger.
Enfinger would pull away from championship contender Johnny Sauter and capture his second career NASCAR Camping World Truck Series victory and punch his ticket to the next playoff round.
"We had good restarts all night," said Enfinger. "We had the best truck and it worked out. We could do everything perfectly a couple weeks from now in Talladega and have it not work out but we are going to be happy with this right now and be thankful for what we've got."
Perhaps the biggest upset of the night, however, was from Ross Chastain as he brought home his Premium Motorsports Chevrolet in seventh. Friday would be the first race of three for Chastain this weekend as he will perform triple-duty.
"The biggest reason I wanted to do this was to get laps on Thursday and get ready for today," said Chastain. "To come out of here with a seventh, that's really cool. There's a lot of room for improvement but the main thing is that we were able to run with the pack and for the Premium Motorsports truck team, we wanted to try and give those guys an award towards the end of the year here for all of the work that they've done all year."
Johnny Sauter currently leads the standings by 17 points over Noah Gragson as teams prepare to race at Talladega Superspeedway for the Talladega 250 on Oct. 13.
Photo: Spencer Hill / New Mexico Motorsports Report