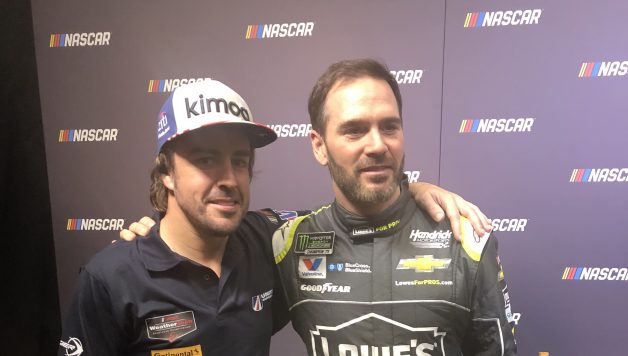 Haverlin's Hot Take: Whatever Alonso and Johnson do together, it'll be great
Earlier this week, a video featuring Jimmie Johnson and Fernando Alonso having a phone conversation went viral on social media.
It was a scripted, minute-long clip, but it still sparked the interest of virtually anyone who follows motorsports.
Eight months ago, Alonso met Johnson at the NASCAR Media Tour. The McLaren F1 driver was in Charlotte because IMSA wanted to have driver availability for the press to promote the Rolex 24 at Daytona.
The two drivers happened to be at the Charlotte Convention Center at the same time and posed for photos before exchanging contact info.
As it turns out, their phone number swap wasn't just for fun. They now seem to have something planned, and there's plenty of theories about what the two might do in the coming months.
Alonso hasn't decided what kind of car(s) he'll race in 2019, although he tested an IndyCar at Barber Motorsports Park a few weeks ago. The Spaniard is a winner of the Monaco Grand Prix and the 24 Hours of Le Mans. An Indianapolis 500 championship would complete his quest for the motorsports triple crown.
He could also run the 24-hour race at Daytona again. If Johnson were his teammate, they'd be the ultimate 1-2 punch in sportscar competition. And it seems like this could be a likely scenario.
On the other hand, perhaps the two might test each other's cars at a mutual location. In 2003, Jeff Gordon and Juan Pablo Montoya famously switched seats at Indianapolis Motor Speedway to give each other the opportunity of driving a different type of racecar. Tony Stewart and Lewis Hamilton did the same thing at Watkins Glen in 2011.
But the video made it seem like something more significant than a mere test session was in the works. Why make a video and hype up the fans just to let them down by putting on a non-competitive event? Johnson and Alonso are both multiple-time champions. I think the people would want to see them race!
Despite not having a sponsor secured for 2019 yet, Johnson insists he'll be racing in the NASCAR Cup Series next year. I highly doubt he'd try something radical such as skipping the Coca-Cola 600 to run the Indy 500 or anything of that caliber. Sports car racing seems to be the most educated guess at this time.
As for Alonso, there's no telling what could be in store. My prediction is he'll run both 24-hour races and compete for an IndyCar championship next season.
Regardless of what they do, it'll gain a lot of media attention. Johnson is a seven-time Cup champion, and Alonso is a two-time F1 champion. That's a lot of talent and fame for two individuals. If they entered a cardboard boat race together, I'm sure people would still pay money to see them compete.
Photo: John Haverlin / New Mexico Motorsports Report