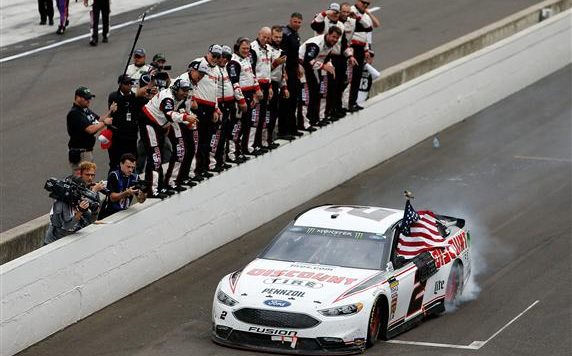 Analysis of Monday's NASCAR events at Indianapolis Motor Speedway
All in on Allgaier?
At the start of the summer, it looked like Christopher Bell would be the favorite for the Xfinity Series title. But it appears Justin Allgaier might now be that guy.
Bell, in a Joe Gibbs Racing Toyota, drives for the best organization in the series, and his accomplishments in dirt racing and NASCAR are likely just the tip of the iceberg. He's only 23 years old and has a lot of his career still ahead of him.
He won three consecutive races in July and currently owns four overall wins this year. But he hasn't won in six weeks. Allgaier won two of the three road course races and held off JRM teammate Tyler Reddick for the win on Monday morning.
Bell admittedly says road courses aren't his strength. During the stretch of road racing in August, he said coming away from those events with a lead lap finish, and the points lead would be a good day.
But Allgaier now leads the standings with a 49-point advantage over Cole Custer. Bell is third in the championship 52 points behind Allgaier. Both drivers have 24 playoff points, although Allgaier has one more win than Bell.
"This has been so much fun here as of late," Allgaier said. "Right now, the level of cars this team is bringing to the racetrack is truly special. … When you click, and everything works, you may not always have every detail right or the best car that day, but it just seems to work out the way you want it to work out."
Allgaier has won three of the last five Xfinity races. It seems either him or Bell will win the championship this year. But does Allgaier see himself as the No. 1 team yet? Not quite.
"I'm not going to say we're the best car," he said. "There are still some cars that have some speed that we still want to find. But we've done a great job of putting it together week in and week out, and that's been the difference maker."
Keselowski goes back to back; is the "Big Three" still a thing?
Brad Keselowski is catching fire at the perfect time.
With the playoffs beginning at Las Vegas next weekend, Keselowski enters as the winner of the final two regular-season races — both of which are considered "Crown Jewel" events.
In a season that's been all about the "Big Three," Keselowski has stormed into the championship debate. Keselowski, Kurt Busch, Clint Bowyer, Kyle Larson, and Chase Elliott have all looked like they could be the No. 4 guy at some point this season, but the Team Penske driver is the hottest going into the postseason.
So what does this mean for Kevin Harvick, Kyle Busch, and Martin Truex Jr.?
The Big Three could be in trouble. The trio hasn't shown dominance in the last month that they had in the first half of the season. Only one of the last six races has been won by a Big Three driver — Harvick at Michigan.
It appears the field has caught up. Harvick and Busch had respectable finishes an Indy. Harvick finished fourth while Busch came home eighth. Busch also clinched the regular season championship. These two are in OK shape for the first few playoff races as they each have 50 playoff points. But further into the postseason, it might be a different story.
Truex has 35 playoff points, but momentum certainly has not been on Furniture Row Racing's side lately. Last week, FRR announced it will cease operations when this season is over, so the team's morale is probably the lowest it's been since Truex's dismal first season with the team in 2014.
However, Truex said everything is well with the No. 78 group:
"We got a great bunch of guys here. A great bunch of hardcore racers. Nobody is going to put their heads down and give up. I can promise you that. We're going to come out swinging in Vegas."
Said Keselowski during his post-race news conference: "Yeah, you know, trying to look at the next 10 weeks, the next 10 weeks are races upon their own. There's a lot of conversation based around momentum, and today is certainly great, but there's not a lot we're going to really take from it from Vegas other than the five bonus points and the money, with that in mind. We're proud of this win for sure, but it's no guarantee for any success in the playoffs. We have to go out and earn it each and every lap of each and every race."
Oh, Dam-lin
Denny Hamlin has won the Daytona 500 and the Southern 500, but a win at the Brickyard has eluded him throughout his 13 years as a full-time Cup driver.
This time, he placed blame on a late crash between Landon Cassill and Jeffrey Earnhardt.
"We executed flawlessly on pit lane, our strategy was good, we had a fast car, just circumstances. Cautions killed us at the end which allowed those guys to go up there," Hamlin said. "Those meaningless cautions at the end by drivers multiple laps down –- what they are doing crashing with a few laps to go, I have no idea. It cost us the race."
Hamlin and Bowyer were the best cars throughout the day. Had the race stayed green to the finish, it likely would have been a battle between the No. 11 and No. 14 cars for the win.
Instead, Hamlin finished third. He led the field on the final restart, but he couldn't hold off Keselowski — on fresher tires — for the last three laps. Despite making the playoffs at the No. 13 seed, he's still winless this year.
"All those cautions allowed the guys who took tires and saved their strategy allowed them to come back up there," he said. "And obviously allowed the 2 to kind of rough us up there at the end. Very unfortunate, but it's what happens sometimes."
Ganassi No. 1 car open for 2019
Before the Cup race, the Associated Press reported that Jamie McMurray wouldn't return to Chip Ganassi Racing as a full-time driver in 2019.
McMurray has been the driver of the No. 1 car since 2010 and has won a Daytona 500, Brickyard 400, and an All-Star race in the seat. But he hasn't won a points-paying race since Talladega in October 2013. He's been Ganassi's 'No. 2' guy behind Larson since he took over the No. 42 car in 2014.
Chip Ganassi said he has offered McMurray a ride for next year's Daytona 500 and a leadership role with the organization — similar to Dario Franchitti's job with the team's IndyCar program.
Kurt Busch has been linked as McMurray's replacement for the last few weeks, although he insists that he hasn't signed a deal with CGR yet.
McMurray failed to make the playoffs this year. He's 21st in the standings with six top-10s. In 572 career Cup races, he has seven wins.
Photo: Michael Reaves / Getty Images