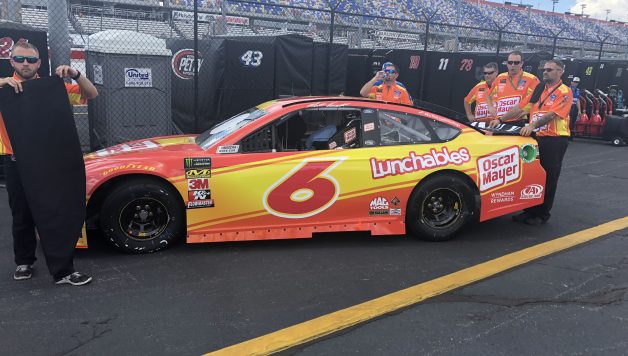 Jack Roush 'still up in the air' about the No. 6 car
Published On September 2, 2018 |
News
DARLINGTON, S.C. — As the driver's meeting let out at Darlington Raceway, drivers and team owners scattered out of the tent. Legendary team owner and NASCAR Hall of Famer Jack Roush was one of the many people leaving the meeting Sunday afternoon.
Roush wasn't hard to miss as the famous straw hat Roush wears was visible in the crowd of people. The New Mexico Motorsports Report caught up with Roush in an exclusive interview.
"I think they got better cars than we had a year ago," Roush said talking about his race teams performance this season. "We need to win a race with Ricky (Stenhouse Jr.) to get him qualified for the championship. He's only got two races left that, this (Darlington) and Indy, I hope we can pull it off. We're not running as good as I figured we would, based on the work we've done on the cars. We'll see what happens, 500 miles is a long time at Darlington. You've got to race the racetrack and not race the cars so much."
As previously reported by NMMR, Matt Kenseth is still uncertain of what his future holds for the 2019 season.
Kenseth has run eight races this year, replacing Trevor Bayne after three-plus seasons of underwhelming performances.
"I'm just honestly concentrating on the rest of the season and trying to get this done," he said. "Those are probably things to talk about at a later date but the season has been up and down. I wish the results were better than they were but on the other hand, I feel we have made a lot of progress. It doesn't really show necessarily on the stat sheet or the box score all the time.
"Just want to keep that going and keep going forward and keep trying to get more competitive for the end of the season."
Roush shared his thoughts on who will be the driver of the No. 6 next season for Roush Fenway Racing, Kenseth, Bayne or another driver.
"We're still up in the air on that" Roush said. He's undecided, and it appears it's anyone's ride right now. Between the two cars at Roush Fenway Racing in the Monster Energy NASCAR Cup Series, they have a combined total of two top-fives, and three top-10's all coming from Stenhouse.