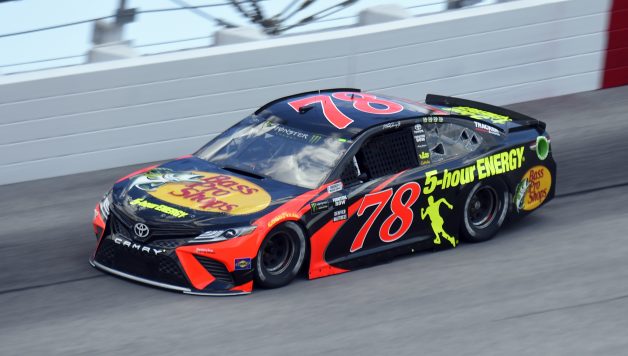 Martin Truex Jr. talks prestige of Darlington Raceway
Published On September 2, 2018 |
News
DARLINGTON, S.C. — As the national anthem concluded, Martin Truex Jr. finished talking to his younger brother Ryan, who was climbing into his car to start the engine. As Truex Jr. was leaving the pit lane and was surrounded by autograph seekers, he spoke with the New Mexico Motorsports Report about the importance this racetrack has not only to himself but the sport.
"I think for the whole sport, this track's important," Truex Jr. said. "Just such tradition, the tradition here, the stories. What it means to the sport is amazing."
Like many drivers this weekend, Truex Jr. expressed his love for Darlington while also saying how difficult the track is.
"It's still the toughest track on the circuit like it's always been, it never really changed, so that's pretty cool."
Truex Jr. was also one of the drivers being honored during throwback weekend. Ryan paid tribute to his brother with Martin's 2004 Busch Series championship-winning paint scheme.
"It's a double throwback," Truex Jr. said to the New Mexico Motorsports Report. "He's throwing it back to me when we threw back to Dale Sr.
"The crazy thing for me is just to think about how long ago that was when it feels like yesterday. Quite a while ago but definitely special to see Ryan in that paint scheme today."
Truex Jr. is a Southern 500 champion, winning the prestigious race in 2016. He came close to pulling out back-to-back wins at Darlington last season as well. Truex has led a total of 202 laps throughout his career at the famed egg-shaped oval. He looks to capture his second career Southern 500 victory tonight.
Photo: John Harrelson / NKP