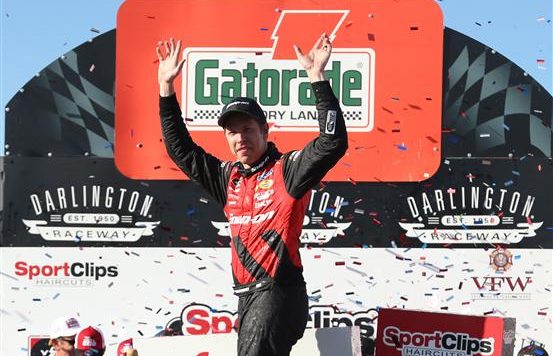 Brad Keselowski on Darlington win: 'It means a lot to me'
Published On September 2, 2018 |
News
DARLINGTON, S.C. — All the drama from the Xfinity Series race on Saturday was ignited by Ross Chastain and Kevin Harvick, but neither driver won the race. As Chastain was trying to hold off Harvick, Harvick slipped up and put the No. 42 in the wall. While the car was out of control, he hit Harvick's car and ended a great run for both drivers. That contact allowed Brad Keselowski to get by and capture his first career victory at Darlington Raceway. This win Keselowski says holds particular importance to him.
"It means a lot to me," Keselowski said. "This has been a track where I started my career very well in the Cup car here. I've had some great runs, and in the last half dozen races I think I've run here, have gone quite awful. I'm trying to figure out why that is and running this race certainly helps, gives me a lot of confidence and direction to know what to work on to be better, to know what to work on with the car and what to work on with me."
Keselowski remained humbled and honored to call himself a winner at Darlington Raceway.
"I'm very proud and thankful for the opportunity to drive for a team that has fast race cars and can bring it all together at the end with the pit stops and adjustments and all those things it takes."
Keselowski led a total of 35 laps en route to his victory in the Sports Clips Haircuts VFW 200.
Photo: Brian Lawdermilk/Getty Images