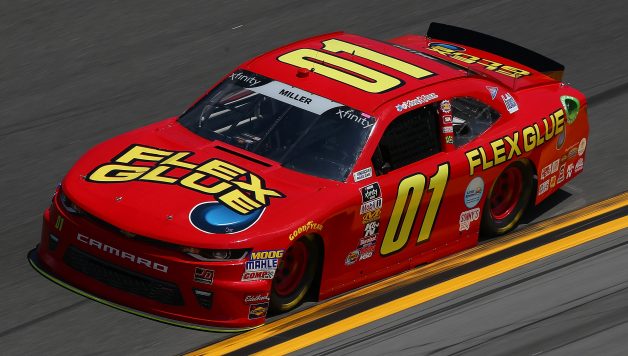 JD Motorsports swaps numbers at Darlington to boost No. 01's place in owner standings
DARLINGTON, S.C. — Landon Cassill returned to JD Motorsports' No. 01 car at Darlington on Saturday as a 'throwback' to his days as the full-time driver in 2014 and '15.
But there was an ulterior motive: get the No. 01 higher in the owner's championship.
Xfinity Series rookie Vinnie Miller has been the full-time driver of the No. 01 this year, but entering Saturday's race, the car was 34th in owner points.
Cassill finished 14th in the 200-mile event and moved the No. 01 car up to 32nd in the standings. If it moves into the top-30 in owner's points, the team will get a $6,000 bonus as a part of each race's prize pool.
The No. 01 is now 12 points behind the 30th-place team, Jimmy Means Racing.
"Landon did a solid job for us, and we knew he would," team owner Johnny Davis said. "He brought the car home to us with no damage, and we'll get it ready to go for Indianapolis."
The No. 01 car that Cassill raced was actually the No. 4 that Ross Chastain would typically drive. Chastain ran with Chip Ganassi Racing, so JDM needed a substitute driver.
So what exactly was the No. 4 that Garrett Smithley raced? It was his No. 0 car with a '4' on the roof and sides. Vinnie Miller drove the No. 0, which was really a '01' car with a '0' painted on the doors.
"It was my team and my car. We just put a '4' on it," Smithley said. "They brought Landon in [to gain more points for the '01'], but the cars that Johnny is bringing to the race track are very good cars. … It just takes money and resources; that's really what it's all about."
In a JDM press release earlier this week, the team said Smithley was driving the "lead car" at Darlington. It really should have said, "Smithley is driving the leading car number, and Landon Cassill is in the actual leading car."
Smithley finished 20th while Miller suffered a suspension failure and wound up 37th.
Cassill said it was "a pleasure" to race for Davis again, although he said he didn't know about the car number swaps.
"It was just kind of a routine day to go and not have a scratch," Cassill said. "Fourteenth is a great day. … I don't know about the cars. I literally didn't see the car until I got to the race track here."
Photo: Sarah Crabill/Getty Images