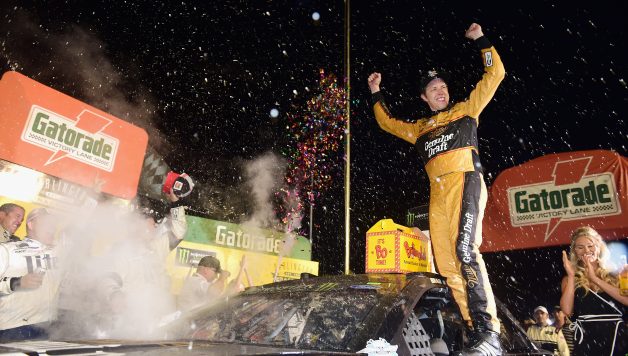 Brad Keselowski sweeps the weekend at Darlington Raceway
Published On September 2, 2018 |
News
DARLINGTON, S.C. — As the dust settled and the fans started filing out of the track, Brad Keselowski grabbed the American flag and did his signature burnout. As the crowd roared, it was apparent he had just swept the weekend at Darlington Raceway.
This win is the 25th of Keselowski's Cup Series career. Ford also leads the rest of the manufactures in wins with 12 this season and 670 all-time in the Cup Series.
"I've got to give a lot of credit to my pit crew," Keselowski said in Victory Lane. "We were running second and that last stop they nailed it and got us out in the lead. I thought Kyle (Larson) was really good, and he was flat-out flying. I know how it goes. In 2015 we led a bunch of laps and lost it on the last pit stop, and today my team won it on the last pit stop. Then it was just about me hitting my marks and not screwing it up. How cool is this winning in Rusty Wallace's throwback car, the Southern 500, throwback weekend."
Recap
The race started with defending race winner Denny Hamlin on the pole. Hamlin led the first 11 laps, but Larson wasted no time getting to the front. He took the lead early and didn't look back for the majority of the race.
On lap 129, Kyle Busch made contact with Joey Gase and caused Gase to spin and hit the inside safer barrier. That contact ultimately ended Gase's night.
Lap 313, a big crash involving Clint Bowyer, Ryan Newman, and Jeffrey Earnhardt. According to Bowyer, he thought the No. 31 of Ryan Newman was pitting and made hard contact.
Larson won both Stages 1 and 2 along with leading a race-high of 284 laps.
Jeffrey Earnhardt crashed again on lap 330, putting an exclamation point to an already bad night for the driver of the No. 96.
In a race that was dominated by Larson, things didn't play out in the No. 42's favor. Larson lost the race off pit road which gave the lead to Keselowski. Keselowski never looked back either as he led a total of 24 laps en route to his first win of the season.
For the second consecutive year, Darlington had a driver sweep both races during the weekend. One race remains at Indianapolis before the Cup playoffs being at Las Vegas Motor Speedway.
Photo: Jared C. Tilton/Getty Images