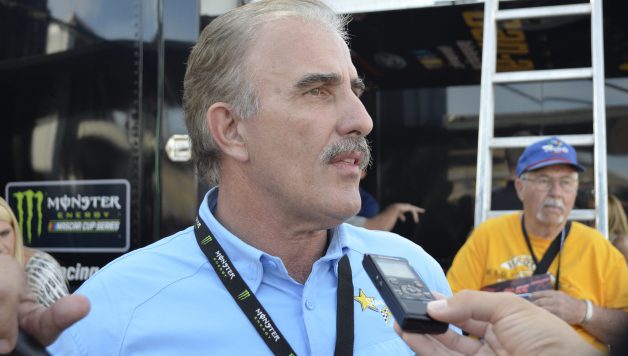 Derrike Cope pleased with StarCom's progress, team 'working toward' 2019 charter
WATKINS GLEN, N.Y. — StarCom Racing is in the midst of its first full season in the NASCAR Cup Series, and it has undoubtedly struggled throughout the year, as most rookie teams do.
But team manager and former Daytona 500 champion Derrike Cope is pleased with the progress the organization has made since February.
In 22 races, the No. 00 car has had four drivers behind the wheel. Landon Cassill has been in the cockpit for 14 of those events and once in the team's second car.
Cassill brought the No. 00 to a 20th-place finish at Bristol earlier this year. He's 34th in the standings with an average finish of 30th.
"[Cassill's] experience has been very good for us," Cope said. "For me, getting him involved was using him as a barometer for really how poor of a race team we were. I think we learned that we really had a lot of shortcomings early on. I think we've worked really hard internally to create better infrastructure and get better equipment on the racetrack to showcase the potential of the drivers we have.
"Landon has been instrumental in proving where we're at each week. … All in all, I'm pleased with what we've done and pleased with Landon's efforts to really work collectively with us."
StarCom leased Richard Childress Racing's No. 27 charter during the offseason. When Paul Menard left RCR to race with the Wood Brothers, the organization didn't have anyone who could bring sponsorship for a third car. RCR has fielded two full-time entries this year for Austin Dillon and Ryan Newman.
When the season is over, the lease agreement will end, and StarCom will be without a charter again. But Cope said the team is already keeping its eye on the charter market for the 2019 season.
"We're certainly working towards those areas. That's certainly something that was pivotal this year and will be for next year as well," said Cope, when asked if StarCom will acquire a charter for 2019. "So, that is a yes."
It's not known if the team is looking to purchase one or lease again. Due to policies in the charter agreement, charters can only be leased once every five years. If StarCom leases again, it won't be the No. 27 charter; it would have to come from somewhere else.
Cope also said Cassill "certainly" could return to the team next year.
"I think he has the talent to be here; all the attributes it takes to be with a team full-time."
Of course, sponsorship will dictate who's in the car. The team has also fielded Jeffrey Earnhardt, Joey Gase, Kyle Weatherman, Tomy Drissi, and Garrett Smithley throughout the season.
"I think we've done OK this year, for being in this thing six or seven months," Cope said. "I'm very pleased overall. Certainly, we have a lot of things we need to work on, and we'll continue to do that. … We have a lot of things we're looking to implement for next year for enhancement of the overall productivity of the team. I feel that next year is looking bright."
Photo: Isabel Gonzalez / The Racing Experts