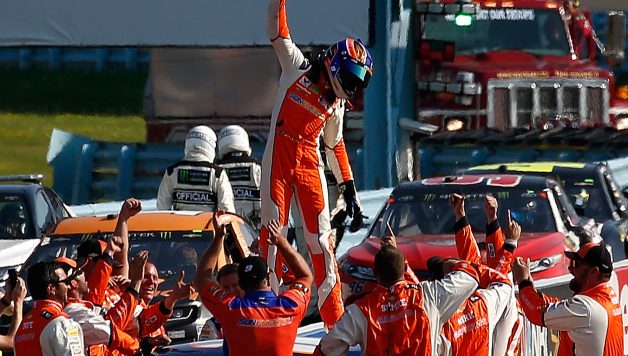 WATKINS GLEN, N.Y. — It took 99 tries, but he's finally done it.
Chase Elliott won his first career NASCAR Cup Series race at Watkins Glen International on Sunday. The 22-year-old started third, won a stage for the third consecutive week, led 52 laps, and most importantly, held off Martin Truex Jr. as the race came to an end.
Obviously, Elliott can take a huge sigh of relief for getting that elusive first victory. But so can his fans, his team, and NASCAR itself.
When Elliott climbed out of the car on the frontstretch, his crew surrounded him to celebrate as he pumped his fist in the air with excitement. The fans in the frontstretch grandstand gave a tremendous cheer for the son of Hall of Famer Bill Elliott.
NASCAR needed this. Elliott seems to be the frontrunner for the Most Popular Driver award, and the industry knew it was a matter of when — not if — he'd win soon.
Erik Jones got his first win at Daytona last month. A week ago at Pocono, Alex Bowman, Daniel Suarez, and William Byron all had career-best results. Kyle Larson has five wins. My point? The youngsters that NASCAR has depended on to lead the sport back to popularity are finally starting to show their prowess.
The "Big Three" of Truex, Kyle Busch, and Kevin Harvick are still the favorites for the championship this year — make no mistake about that. But the drivers who are in their twenties are proving they belong in NASCAR's elite level.
"A lot of relief, a lot of emotion in general," Elliott said. "Relief is definitely one way I'd say to describe it. I've left races pretty down over the last couple years at times. … One thing I ran in my head is that you don't run second eight times by luck. … You have to realize you're in this position for a reason."
When Elliott took over Jeff Gordon's seat at Hendrick Motorsports in 2016, the expectations were absurdly high. Elliott, the 2014 Xfinity Series champion, became the driver of the iconic No. 24 as a 20-year-old and started the year off by winning the Daytona 500 pole.
With a start like that, it's hard to live up to the hype. Throughout his rookie year, he had some bad weekends, but he also had some great ones. Over the last two-plus years, Elliott's eight runner-up finishes demonstrated he just needs to learn how to run a complete race.
"I felt like last year, I was at the top of my game that I've ever been as a racecar driver in general," he said. "I felt coming into this year we had a lot of confidence in knowing that we could compete with these guys. We haven't had the year we've been hoping for. But the past few weeks have been encouraging."
With Gordon and Dale Earnhardt Jr. retired, NASCAR needed someone like Elliott, who comes from a family rich with racing history, to step up to the task and show the world that he can be the next great superstar.
Elliott isn't sure if he would agree, but he knows this win means a lot.
"I don't know, but it was really cool and something I'll never forget," Elliott said. "To see the fans' reaction and people fired up — whether it's for me or whoever — that's pretty cool to see, and I'm certainly glad we were on the front end today."
With drivers like Larson, Elliott, Jones — who aren't even in their prime yet — there might finally be a light at the end of the dark, seemingly-endless tunnel for NASCAR.
One good race with a dramatic finish doesn't mean NASCAR is fixed, though. Getting the television ratings and grandstand attendances back to par is still an ordeal that must be faced head-on.
But it doesn't hurt when the Cup Series has a flashy, new racer in victory lane. Elliott's triumph is one small step in the right direction. From here, NASCAR must keep the ball rolling. The young guns have to keep winning. That's the best way to keep the fans coming.
DISCLAIMER: Thoughts and opinions reflected are only those of the writer. Follow him on Twitter @JohnHaverlin
Photo: Jeff Zelevansky / Getty Images