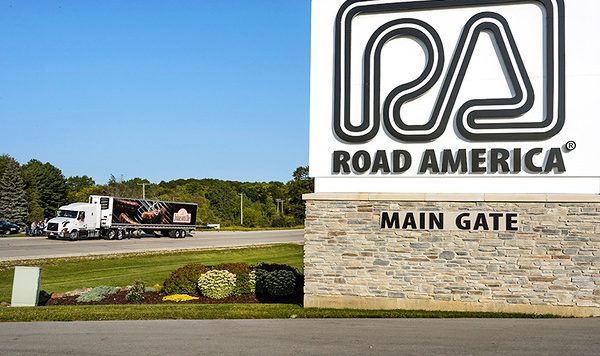 Bill Elliott coming out of retirement to join GMS for Road America Xfinity race
WATKINS GLEN, N.Y. — Sixty-two-year-old Bill Elliott will compete in the NASCAR Xfinity Series race at Road America in late August.
Yes, that Bill Elliott. A.K.A. "Awesome Bill from Dawsonville" and Chase Elliott's father.
GMS Racing made the announcement Saturday. It will be his first NASCAR start at the Wisconsin road course.
"When this opportunity came up from Mike (Beam, GMS president), I had to jump on it," Elliott said in a statement. "Chase has run a handful of races for the team, so I figured I would give it a shot at Road America. Beam and I have worked together in the past so it will be exciting to get back behind the wheel and bring back some old memories."
Spencer Gallagher, son of GMS team owner Maury and the part-time driver of the No. 23, said the plan to get the elder Elliott in the seat for GMS has been a multi-week process.
"We've been working on this deal for a couple of weeks," he said. "It really is a cool deal. I'm glad to have a legend like Bill Elliott in our car.
"As soon as we heard there was a possibility of it, Mike came and talked to me and asked me what i thought about it. I thought it was a cool opportunity.
"It's been a little while coming. I'm glad we were able to keep it under the wraps."
So how and why did the idea of putting Elliott in the car come up in the first place?
"I think it was just kinda a wild hair up Mr. Beam's ass, frankly," Gallagher said. "He's been friends and worked with Bill forever. He ran the idea by me one day and said, 'What would think about doing this with Bill?' I said, 'I think that's a great idea to have such a legend in GMS' car.'"
Chase said he'll be in attendance for the race and said the goal for his father is just to have fun.
"He'll have fun. That's the main thing; go enjoy it," Elliott said. "The folks at GMS we're kind of standing around one day and offered it up."
Bill Elliott was inducted into the NASCAR Hall of Fame in 2015. He hasn't competed in an Xfinity race since 2005 and last drove on a road course in 2007 for the Sonoma Cup event.
Photo: Les Tension / Road America