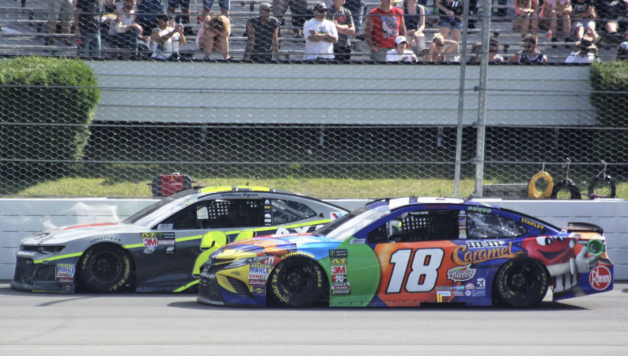 Kyle Busch wins Pocono, but younger drivers finally in contention
LONG POND, Pa. — Kyle Busch won, and Kevin Harvick finished fourth, but five of the top-seven drivers from Sunday's Gander Outdoors 400 were age 26 or younger.
In a season that's been dominated by the "Big Three" of Busch, Harvick and Martin Truex Jr. — all former champions and veterans of the NASCAR Cup Series — the young guns haven't fully lived up to the hype that was bestowed on them during the offseason.
Daniel Suarez earned his first career pole after Harvick and Busch's qualifying times were disallowed on Saturday evening, and he led a career-high 29 laps at Pocono Raceway.
The Mexican finished runner-up to his Joe Gibbs Racing teammate while Alex Bowman and fellow JGR driver Erik Jones posted results of third and fifth, respectively. Hendrick Motorsports drivers William Byron and Chase Elliott finished sixth and seventh.
"Kyle, Martin, and Kevin are great drivers with a lot of experience with great race teams, so they have the whole package," Suarez said. "Sometimes, for a newer driver, it's a little bit difficult to fill that package. I feel like it takes time. … It's a process."
Bowman and Byron seemed to agree, saying that HMS overall has seen slow, but steady improvement over the last few weeks.
"I feel like we're getting our cars better, which is the biggest thing," Bowman said. "I've contended for wins previously, and now we're kind of heading back in that direction. … But we're probably a little off on speed still."
Elliott won a stage for the second consecutive week. Byron led 10 laps and earned his second top-10 of the year.
"It feels like we're capable of running in the top-10 now, which we couldn't say a little bit ago," Byron said. "I feel like I'm starting to belong where I'm running, and I'm not questioning anything I'm doing.
"I think coming back to the same track with the same teams — a lot of us are new to our teams — I feel like Alex, me and Erik Jones are all on pretty new teams. [The Big Three] have been with their teams for five years now so that's a huge difference and it can't be said enough what it does for fine-tuning."
Hendrick fields three of its four cars with drivers still searching for their first win, and considering the struggles that Chevrolet organizations have faced with the new Camaro body, it now seems obvious that the team would struggle this year. But Elliott's "dumb luck" comment about his strong performance at New Hampshire last weekend might not be dumb luck after all.
For the overtime restart, Busch and Suarez were on the front row, and drag raced down the frontstretch. Jones slingshotted to Suarez's inside and made it three-wide in Turn 1. Ultimately, Busch on the outside cleared his two teammates on Long Pond Straightaway, and it essentially sealed the deal for the points leader, who now has six wins in 2018.
"I'm not sure about (the three-wide racing) as far as wisdom goes," Joe Gibbs chuckled. "But I was really pleased. I think Erik has really got on a roll. And for about the seven weeks or so, he's really stepped up with top-10s and going after it and getting that win at Daytona.
"I think Daniel has fought so hard each and every week. It seems like something would happen to him to take him out of contention and top-10, and it's great to see him have a day like today."
Suarez and Byron (20th and 21st in the standings) will likely need a win to make the playoffs. But Jones, Elliott, and Bowman are currently in position for the postseason.
Jones, Byron, and Suarez have all come up as Toyota Racing Development drivers and have had help from Busch in their careers. So what does he think about seeing his protégés running so well?
"It's gonna suck when they beat me," Busch said. "It's just a matter of time before they do that."
DISCLAIMER: Thoughts and opinions reflected are only those of the writer. Follow him on Twitter @JohnHaverlin
Photo: A.J. Yabroudy