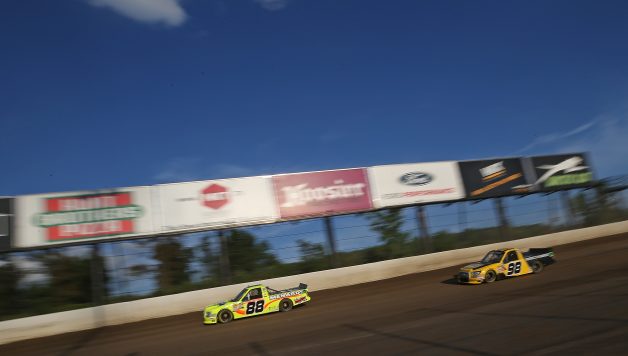 Haverlin's Hot Take: Thoughts on dirt racing, shorter schedules, and T-shirt-wearing broadcasters
LONG POND, Pa. — Following the weekend at New Hampshire Motor Speedway, the NASCAR world was once again undecided about a few of the sport's hottest topics.
Should the Cup Series ever visit a dirt track again? Is the schedule in need of a major overhaul? And what was the reaction to the throwback T-shirts that the NBC Sports broadcasters wore in the booth during the race?
Cup returning to dirt? Nope.
Yes, NASCAR started racing on the beaches of Daytona when it was first organized in 1948.
But the premier stock car series in the world no longer races on anything other than pavement. Dirt tracks aren't capable of handling the crowds that a NASCAR Cup event can bring. The grandstands can't seat more than 30,000 at Eldora Speedway, which hosts the Truck Series Dirt Derby each July. But let's forget the seating capacity for a moment.
Think about the traffic situation on any given NASCAR weekend. It's pretty hectic. Now imagine that on the road that leads to your local dirt track. It's just not a feasible possibility. Dirt tracks are meant for local sprint car and modified drivers who compete on Saturday nights, not for the elite of America's most popular racing series.
The traffic would be horrendous if the Cup Series visited any dirt track because these venues are generally in undeveloped locations without significant roadways in the surrounding area. There's no way all the campers and team haulers could be accommodated for a three-day weekend.
NASCAR Chairman Brian France on the Cup Series visiting Eldora, as track owner Tony Stewart suggested: "Probably not going to have that phone call [with Stewart] any time soon. The schedule is pretty full. He's done a great job of running Eldora and other things he's doing in the dirt track stuff, so good for him."
Case closed. You can beg and plead all you want, but the Cup Series isn't coming to a dirt track near you. Oh, and The King had something to say earlier this week as well:
Richard Petty when asked if it's time for the Cup Series to return to dirt, "No. No. Going to dirt would be like the Panthers playing in a high school stadium. It don't work. We're way beyond that deal from a professional standpoint. I don't even see that being feasible at all."

— Kelly Crandall (@KellyCrandall) July 24, 2018
Is the Cup schedule too long?
Joey Logano thinks so.
"Going to a racetrack one time makes sense to me," he said. "Whether it's a mile-and-a-half, a superspeedway, whatever it may be. If you go to a racetrack once it makes it an event."
He has a point. No other professional racing series besides those which belong to NASCAR visits the same track twice in one year.
IndyCar and Formula E have dual-race weekends, but those leagues don't show up once in the spring and then again in the fall. Obviously, Formula One goes to each venue once per year for the respective country's Grand Prix event, so why does NASCAR go to some tracks twice?
"This weekend (at New Hampshire) will be a great test to see how that works out," he said. "It was two races, and you're a fan who can only afford to go to one, you're most likely going to choose the playoff race. … You can't miss this one and have a chance to go to the next. This is the race."
So if the Cup schedule was shortened to 23 races per year, that's one visit per track. But that would change the sport drastically. Some sponsors might bail while others want in, the playoffs would certainly need to be altered, and perhaps fan attendance would increase, as Logano said. But like dirt racing, this won't happen in the foreseeable future — unless of course, France sells the organization that his family has owned since 1948. But he simmered those rumors as well this week, saying his family is "locked and loaded" with NASCAR.
Fans like the tees, but is it appropriate?
NASCAR on NBC asked fans to vote on the attire that Steve Letarte, Jeff Burton, and Dale Earnhardt Jr. would wear for the Cup race at NHMS last week. They were offered three choices: comfort casual, the traditional shirt and tie, or throwback T-shirts with jeans.
T-shirts and jeans won by a large margin. The broadcast trio liked it because they didn't have to dress up in the jackets and button-downs. But it didn't sit right with me. It didn't look proper.
They're presenting a professional event on live television. It looked like three dudes you'd see chilling at a bar just talking about the race as it transpired in front of them. That's not how a broadcast team as prominent as NBC's should appear.
If anything, it did allow the broadcasters to pay homage to an old-school racer, so there's the silver lining. Earnhardt was praised on Twitter for wearing a Dick Trickle shirt. But once is enough. The broadcast booth is the workplace of Letarte, Burton, and Earnhardt, not the Buffalo Wild Wings down the street from your house.
DISCLAIMER: Thoughts and opinions reflected are only those of the writer. Follow him on Twitter @JohnHaverlin
Photo: Matt Sullivan / Getty Images