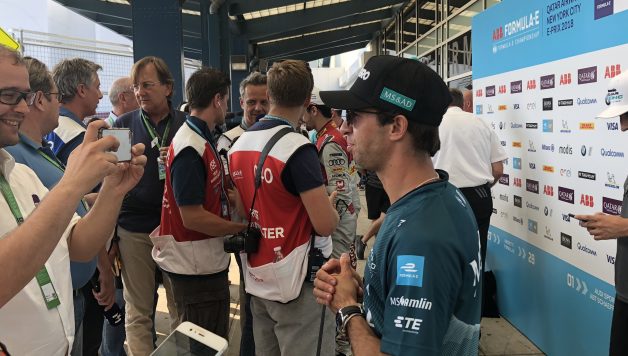 On Saturday morning, the New Mexico Motorsports Report had an exclusive interview with António Félix da Costa, who drives the No. 28 MS&AD Andretti Formula E Spark-Andretti car. da Costa has competed in Formula E since its inception in 2014 and has one career win. He also ran the Rolex 24 At Daytona for Jackie Chan Racing earlier this year and finished fifth overall. We've provided the original recording and a transcript of the interview. Feel free to choose between reading or listening!
NMMR: You've been in Formula E since its debut season in 2014, and you're in your second season with Andretti. Can you talk about what it's been like racing for an American-based team?
DA COSTA: "I've always loved America in regards to sports and how they face sports. Everything here in America is way more open to the fans, and they love to give back. So joining an American team has really made me look into sports and motorsports in a different way. Obviously, racing for Michael's team is a huge honor. The Andrettis don't need any kind of introduction in the motor racing world. It's been great to share this experience and to learn from the Andrettis in the last two years. It's been tough though, for us in Formula E. It hasn't been too easy years. I think we're going through a bit of a transition planning the future and putting most of our chips into what's coming next year. We knew from the start it was going to be tricky. We're just doing the best we can with what we have and try minimizing mistakes, picking up points where we can, and going from there, looking forward into the future."
How do you feel going into next season with a new-generation car, and pit stop-less ePrixs?
"It's really promising. The car looks amazing. I think Formula E has been pushing lots of boundaries in the motorsport world, especially on the car industry world with all the technology we're pushing here and racing on full electric motors. We're the first ones to do it, and we're doing it really well. What this has grown in the last four years has been incredible to watch. We've got more manufacturers now than IndyCar, and Formula One combined. It really is impressive with what's been done here. And into next year with the new car, it's really a big step forward. We've got more manufacturers joining in, so it's just so great to be a part of something so innovative and really looking forward to where we're going to be two, three, four years from now."
One of your career highlights was the 2016 Macau Grand Prix in China.
"It's a very important race, the Macau Grand Prix. I've won it twice actually. 2012 and 2016. But 2016 was the FIA World Cup, so we managed to win that. It was really cool. I was expecting that when we went to it, it really was no expectations and came away with a win on that one, so that was really good. I've had some good moments in my career working as a test driver for a Formula One team for the last six years with Red Bull Racing. It's also been really good learning a lot with F1 and F1 people — mechanics and engineers, drivers. Now being able to race for Michael and be a BMW driver back in Europe, I can't complain with what I've been given in the last few years."
Earlier this year, you ran with Jackie Chan Racing at the 24 Hours of Daytona.
"Like I said, to race in America has always been a big dream. I'm still chasing down an IndyCar test because I would love to feel what that's like. I love the series. Doing Daytona in American was really cool. Racing for Jackie Chan's team, he's really passionate about his team as well, and we came home fifth. Three rookies were in the car — really no experience. Me being one of them, I had never done a 24-hour race before; (neither) did two out of the four (other guys). It was quite a result, look forward to trying to get back there next year and try to get that watch."
Being with Andretti, how often do you communicate with Michael?
"Michael's very involved. He's very passionate about his team. It's got his name on it, so it's very understandable. We all want to do well, and obviously, Michael has various programs to focus on. IndyCar is probably Andretti's biggest program. They race in North America, so he lives it every day. Me being in a world championship and racing all over the world, the team and the mechanics are based in the UK. So there's less direct contact, but lots of dialogue and communication going on every week. He's very much involved. A lot of people in Indianapolis are as well. It's very much a big family."
What makes Formula E better than Formula One?
"I don't think we should really go there. I don't think we should be compared to F1 at the moment. We don't want to be compared to F1. F1 is the king of our sport. It's existed for over 60 years; it should be. It's the quickest car in the world at the moment. There is space in the world for both. We're two very different series. We race in city centers; they race in racetracks, so the concepts are very different. I do think we are pushing boundaries and looking to match them in the future. We're not in that position yet. We don't want to be in that position yet. The cake is big enough for everyone. But obviously, F1 is still the king of our sport, and we're coming for them."
Is racing an IndyCar something you'd consider in your career and will you be back with Andretti next season?
"I would love to test IndyCar. I've never hidden that I'm a huge fan of racing in America. Every chance that I have, I take it. I just love the IndyCar Series, how raw it is. There's no power steering, there's no traction control, the tracks are bumpy, the cars are fast, and that's just my style of racing. So I really love that, and I'd be happy to test the car. Trying to get a test soon, so let's see if that happens. And regarding next year, my goal is to be with this team next year as well. Obviously, BMW is joining us as manufacturer so they will be very well equipped for next year and that's what I'm working towards."