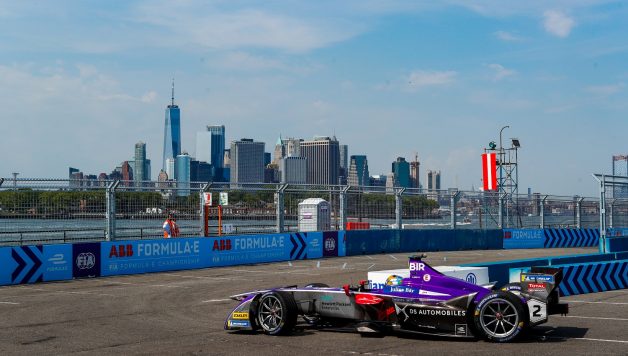 Final thoughts from Formula E's second annual NYC ePrix weekend
NEW YORK — When the checkered flag waved for Sunday's NYC ePrix Race 2 in Brooklyn, Formula E's fourth season came to an end.
Jean-Eric Vergne clinched the driver's championship in Race 1 on Saturday. His Techeetah team was still in the hunt for the teams' title, and he won the second ePrix, but the championship went to the Audi Sport ABT Formula E Team as its drivers Lucas di Grassi and Daniel Abt finished second and third, respectively.
Throughout the morning, wet weather lurked over New York City's Southeastern borough. It precipitated a few hours before the race started and it appeared Sunday's ePrix could be the first ever FE race in the rain. But the series is now 45-for-45 when it comes to racing in the sunshine. If only NASCAR could have such luck.
The start of a new beginning
FE will ditch its current car and introduce the latest generation of vehicles, which have a battery that can last the entire length of a race. In other words, there won't be anymore pit stops. The final round of stops to ever transpire in FE occurred on Sunday as drivers hopped out of one car and into another at the midway point.
Of all professional racing series in the world, there isn't one that doesn't necessitate some form of refueling or tire changing. It's unprecedented, but that's why FE is doing it. The series prides itself on pushing the boundaries of traditional motorsports and refuses to seek any similarities with Formula One or any other discipline of racing.
The ePrixs will also be about 45 minutes long next year. Short, right? Yes, but it could work in the series' favor. FE isn't designed to attract the traditional F1 or NASCAR fan. It's mainly a platform for electric cars to be recognized and accepted as the future of the automotive industry.
Enel, a Rome-based sustainability company, is the manufacturer that provides the power for FE cars and its goal is to make eco-friendly energy usage the new norm for street cars. They want the average person who's driving on the freeway to stop and refuel with electricity instead of gas.
It won't happen tomorrow, but a day will come when everyone owns an electric car. In a 2014 Jalopnik article, BP said there's enough oil in the world to last until 2067. Assuming auto racing is still an existing sport in this year, FE could theoretically be the premier form of motorsport on Earth.
How and why New York?
Some of the greatest racing leagues in the world — including F1 — have desired a race venue that ran through the streets of the Big Apple. In 2011, the FIA announced that F1 would have a Grand Prix in Weehawken, New Jersey. The temporary circuit would be built on Port Imperial — a ferry transit station along the Hudson River.
The race was scheduled for its debut in 2013, but plans for it fell through after a contractual dispute with New Jersey's Grand Prix organizers. A 2012 Jersey Journal story said that F1 promoters failed to get the necessary permits to host the event. Former F1 CEO Bernie Ecclestone said it would be pushed back to 2014. Then he said it would be forced to 2015. Then it never happened.
So how did FE — a 4-year-old series — manage to arrange a race weekend in Red Hook, Brooklyn?
It's because of the energy-efficient philosophy it carries. Anything that's emissions-free is irresistibly attractive to major cities. That's why FE has raced in places such as Hong Kong, Rome, Paris, and Berlin, to name a few.
F1 is set to run a Grand Prix in Miami next year, but the deal didn't come together quickly as city residents protested it because of the noise pollution, road blockages, and overall stress it will put on local areas.
FE cars are so quiet that the screeching sound from the tires can be heard when the cars make a sharp turn. In NASCAR, you can't sit in the grandstands for more than 15 or 20 minutes without thinking your eardrums will explode from the immense volume of the engines.
The series will come to New York again next year. Along with it will come a new generation of race cars, more manufacturers, and since this story hasn't emphasized enough of the competition aspect of racing, hopefully, a tighter championship battle.
DISCLAIMER: Thoughts and opinions reflected are only those of the writer. Follow him on Twitter @JohnHaverlin
Photo: DS Virgin Racing