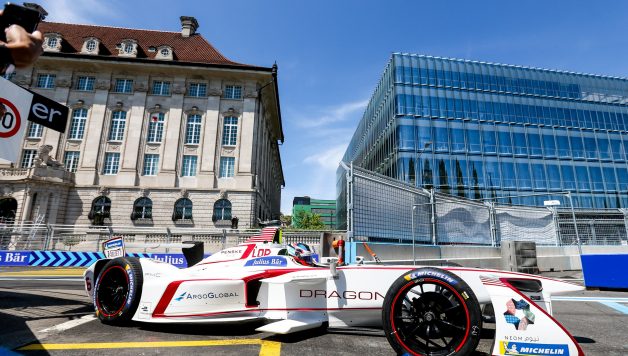 Haverlin's Hot Take: Initial thoughts on this weekend's Formula E events in New York City
NEW YORK — For the next two days, I'm covering the FIA's Formula E championship as the series completes its 2017-2018 season with a dual race weekend on the streets of Brooklyn.
I didn't think I would be sitting here in the media centre (CENTRE, not center — this is a European series!) until Tuesday morning. I was in my sister's apartment in Tampa when I received an email from the FIA saying that I've been invited as an accredited media member.
My editor, David Swope, and I applied for credentials a few weeks ago and got a response from the FIA rather quickly, but then the communication slowly dissipated. Long story short, we were approved, and I've made it to New York City to cover my first international racing series. I'm pretty stoked about it.
Naturally, things are a lot different here than they are in the world of NASCAR. As I walked through the paddock, I heard a lot of English accents and foreign languages. Most of the crew members I overheard were either speaking French or Italian. I felt like I was in a different country, yet I'm a mere 20-mile drive away from where I grew up on Long Island.
This next one I kind of expected as I'm only 22 years old, but I think I'm the youngest individual in the building. However, I like it being that way. I want people to look at me and think, "Wow, he's young, he must be a pretty talented reporter."
But I don't want this weekend to be about me, nor do I want to boast. I'm going to absorb every second I spend at the track this weekend because it's not often that a NASCAR writer gets to visit the world of Formula racing. But I'm going to work my butt off and learn as much as possible and do my best to provide the knowledge back to you.
I've watched this series on television for two years and was instantly intrigued by the mid-race pit stops. In case you don't know, Formula E cars have a battery life that lasts about half the race, and then drivers pull into the paddock, jump out of the car, run about 10 feet, and strap into a new, fully charged one for the remainder of the event. No other discipline of auto racing that I can think of does that.
The next two days will be memorable. I can't wait to interview drivers, network with PR representatives, and most importantly, tell the stories of the 2018 New York City ePrix.
DISCLAIMER: Thoughts and opinions reflected are only those of the writer. Follow him on Twitter @JohnHaverlin
Photo: Formula E Official