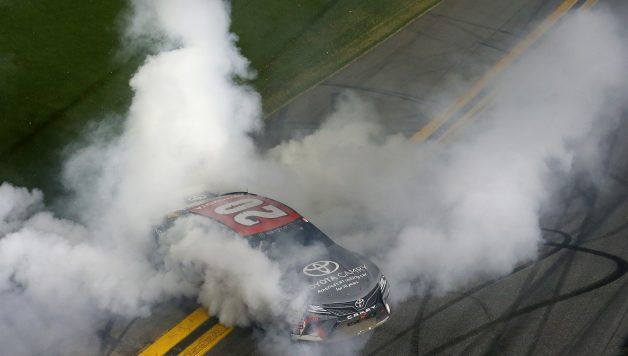 Wild Daytona race leads to Erik Jones' first Cup win
DAYTONA BEACH, Fla. — "Oh boy, how about that race, boys, and girls?"
Those were the words that came out of Erik Jones' mouth after his first career NASCAR Cup Series win at Daytona International Speedway on Saturday night.
Jones passed his former teammate from Furniture Row Racing Martin Truex Jr. with half a lap to go and brought the No. 20 Joe Gibbs Racing Toyota to victory lane for the first time since Matt Kenseth's triumph at Phoenix eight months ago.
Jones led one lap, but it was the only one that mattered. Truex finished second, A.J. Allmendinger third, Kasey Kahne fourth and Chris Buescher fifth. Ty Dillon earned his first career top-10 with a sixth-place finish.
Survival of the fittest
The Coke Zero Sugar 400 can be summarized with two words. Crash. Fest. Most drivers said that it was a competition for survival. There were three "Big Ones" and a few other accidents throughout the race.
"It's one of those nights that you got to survive," Allmendinger said. "It's not pretty."
Truex was able to come home in one piece because his No. 78 Toyota had speed without help from the draft and forced his way to the front in the final stage. Although he's never won a restrictor plate race, he's been strong on them since FRR switched to Toyota. Remember how close he was to winning the 2016 Daytona 500? Before his career is over, he'll probably have at least one trophy from either Daytona or Talladega.
Stenhouse: The man with a target on his back
Ricky Stenhouse Jr. might need extra security around him for the next few weeks. He won the first two stages, but he was responsible for two multi-car wrecks at the front of the field and making a spectacle of himself by spinning with less than 10 to go.
He was escorted to the driver-owner lot with security personnel behind him after the race.
Stenhouse's escort on the way to his ride to the driver-owner lot @DISupdates. #NASCAR pic.twitter.com/UavZnaiQrk

— Zack Albert (@zack_albert) July 8, 2018
Well, I'll say this about Stenhouse. If he weren't in the field, the show might've been a lot less exciting.
The drama continues
Chicagoland was arguably the most intriguing event of the season. Well actually, that was before the green flag waved at Daytona.
The 400-mile superspeedway race had it all. There were crashes, numerous lead changes, chaos around every corner and most importantly, a new winner. Jones became the seventh driver to win a Cup race this year, meaning there's one less spot available to make the playoffs.
With nine races left until the start of the postseason, every winless driver will give it everything they have through September. The year has been dominated by the "Big Four" of Kyle Busch, Truex, Kevin Harvick and Clint Bowyer, but perhaps the tides can change, and the young guns will start finding victory lane.
That's exactly what NASCAR needs. Since the start of 2017, Jones, Kyle Larson, and Ryan Blaney have won. But Chase Elliott, Alex Bowman, William Byron, Darrell Wallace Jr. and Ty Dillon are yet to find the same success in their young careers. They're NASCAR's future, so it'd be better if they find their way to the front sooner than later.
Some would argue this season has been uninteresting because it's the same few veterans winning all the races with uneventful finishes, but we've now seen two consecutive nail-biters.
Matt Dibenedetto finished seventh with the underfunded GoFas Racing organization. While his finish was great, it's what he said after the race that could resonate with virtually everyone that sat in the grandstands or watched from home.
"I guess that was probably one of the craziest races I've ever taken part in."
Is "crazy" good? For this year, yes. The dramatic moments we've been waiting for throughout the first half of the season have finally arrived as NASCAR hits the summer stretch.
So here's one question to ponder before the series visits Kentucky Speedway next weekend. How can the 1.5-mile speedway live up to the theatrics the last two weeks have provided us? It'll be difficult, but the beauty of sport is the unpredictability that hides around each bend.
DISCLAIMER: Thoughts and opinions reflected are only those of the writer. Follow him on Twitter @JohnHaverlin
Photo: Sarah Crabill/Getty Images