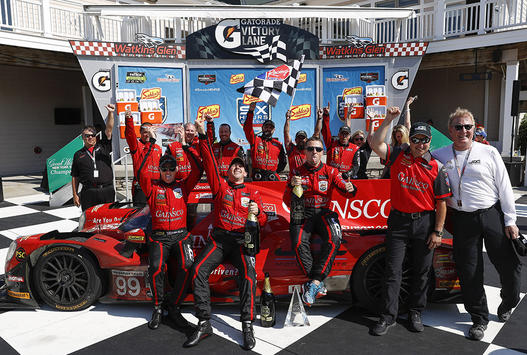 Haverlin's Hot Take: Sports cars at the Glen, Spencer Gallagher's return, and 'Slide job!'
Last weekend, the New Mexico Motorsports Report visited the Sahlen's Six Hours of The Glen in Upstate New York. We've covered NASCAR and IndyCar events at Watkins Glen before, but this was our first time covering the IMSA WeatherTech SportsCar Championship at the historic road course.
Racing for six hours at the tricky Watkins Glen International is a daunting challenge within itself, but considering the scorching weather, it made the circumstances for drivers all the more difficult.
Temperatures reached nearly 100 degrees and sitting in the shade was the only bearable place to watch the race. When the checkered flag waved, and drivers climbed out the cars, you could see the exhaustion on their faces.
JDC-Miller Motorsports earned its first-ever overall victory. On a late restart, Stephen Simpson overtook Acura Team Penske's Juan Pablo Montoya and the Konica Minolta Cadillac DPi-V.R car of Jordan Taylor for the lead with about 35 minutes left, and never looked back.
The No. 99 JDC-Miller entry started from seventh and led 30 laps. For most of the day, it looked like Penske or United Autosports were the teams to beat. Montoya and Dane Cameron led a combined 124 of 202 laps while Phil Hanson, Paul Di Resta, and Bruno Senna started from the pole and guided the field for 25 laps. The United team ended up fourth overall.
Although sports car racing doesn't draw nearly the same crowd as NASCAR, pit road was flooded with fans before the race. However, the grandstands certainly were far from filled, but sitting on aluminum bleacher benches without any shade is not something many folks like to do anyway.
The camping area on the infield was about as clean as I've ever seen on the day of a race. If you've ever been in the RV section during a NASCAR race or an Indy 500, you'll know that the fans are rowdy, beer cans are littered all over the place, and burned out makeshift fire pits are behind every other mobile home.
It wasn't like that on Sunday. Well, not nearly as bad anyway. The fanbase was more mature, in both a literal and figurative sense. I described this to my editor via text message, and he replied, "True. I went to an IMSA Race in Long Beach. More of a wine crowd than beer."
Endurance racing won't keep you on your toes from start to finish. But it can provide dramatic moments, like Simpson's three-wide overtake for the win. Moments like that are why we watch anyway. In motorsports, you never know what will happen around the next turn.
Gallagher returns
On Wednesday, Spencer Gallagher was reinstated by NASCAR after he was indefinitely suspended for a failed drug test. The suspension was announced just days after his first win at Talladega Superspeedway, which occurred in late April. Gallagher has completed NASCAR's Road to Recovery program and will return to his No. 23 GMS Racing Chevrolet at Kentucky Speedway next weekend.
From start to finish, this story has been a bad situation that ends up with a good look. Obviously, Gallagher's failed test didn't put him in a positive light. But NASCAR did what it had to do. A zero-tolerance policy is the best way to prevent drivers from doing any drugs, and when the sanctioning body indefinitely suspended him, it made a statement. Gallagher was made an example of what happens when a driver chooses to do drugs. And on Gallagher's end, it couldn't have been handled better. He didn't fuss over the suspension. He began the recovery process immediately and remained out of the spotlight until he was finished. It was a professional and mature reflection of him. Now he gets to return to what he loves doing — driving race cars.
'Slide job!'
This next story probably hasn't been discussed enough. Kind of went under the radar. Not much media attention.
Ha! Just kidding. If you haven't heard Dale Earnhardt Jr. yelling 'Slide Job!' on your television or on social media, I have one question for you: Are you alive? Because I don't think there's a living being that calls him or herself a race that hasn't heard it at least 50 times this week.
The ending of the Chicagoland Cup race is already in the discussion as one of NASCAR's greatest finishes. And Earnhardt, in his debut as a full-time NBC Sports broadcaster, has already created the signature moment of his television career. The final lap will be remembered for decades. The combination of Earnhardt's excitement, the fact that it happened in his television debut, and the dramatic battle between Kyle Larson and Kyle Busch created the perfect moment NASCAR needed.
This season has lacked drama. The races haven't been great and it's the same five cars up front every week. I thought the Sonoma race was HORRIBLE. I questioned if I'd even watch the Chicagoland race. But boy, I'm sure happy I did. And I'm happy this happened for NASCAR. The sport needed something to get fans talking. NASCAR needs some passion from the fans and they have delivered. All the keyboard warriors on Twitter talked about how much they hate Busch, or how much they respect Larson's sportsmanship, or how awesome it was to hear the usually mild-mannered Earnhardt yell with excitement.
The only thing that could make it better is if the drama sticks around as the playoffs get closer and closer.
DISCLAIMER: Thoughts and opinions reflected are only those of the writer. Follow him on Twitter @JohnHaverlin
Photo: IMSA Official