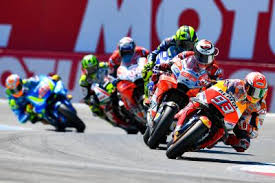 Off The Chain with David Werth
Off the Chain with David Werth
I'll be honest, up until a few minutes ago when I watched the MotoGP Assen races, I was wondering what I could possibly have to chatter about enough to make an article.
Moto2 is always fun, and it was this time as well. And I don't know about you, but half the time moto2 is better than GP cuz they gotta prove their way to GP.
But this weekend showed different. This weekend we saw Marquez not just be a punk…. which he has been. And I was all about him being a bold, no fear, shoulder to the pavement pioneer. But that has been tough for me to continue on with that support and belief. He's been reckless, and disregarding of his fellow riders and, honestly, I had all but written him off as a disappointment in younger talent.
This weekend's race was rejuvenating on all levels. Marc wasn't a dick, we got to see Rossi and Lorenzo battle it out like the good old days, see battles like they were all back in moto2.
I don't even remember the last time I shouted out at the TV set. And I did it a hundred times during this race.(sorry honey, I'll try to be quieter)
Rossi bumping into Lorenzo when Lorenzo miss shifted and changing the entire scope of the race was one of the accidental shouts. From there it was not just a battle for first…. it was an all out battle for every second any of them could grab. Every podium spot was on the market and everyone was hungry. Just the way we like it. Marc wiggles his way back up, and, surprisingly, not by being his typical jackass self. He earned it. And in the process, a little more of my respect back as well.
This is what GP should always be. This is what made me think that the best battles aren't always in moto2. (That was a good race, too. But nothing like GP)
Nobody played dirty, and sure there were bumps and nudges and "edge of your seat" moments. A lot of them. And that's what it SHOULD be.
Thank you, GP, for showing us all why you are the top of the top.
Race like that every time…. and don't get nasty…. just be better than the next guy.
It's gonna be difficult to go to sleep after watching that. And I'm sure my neighbors are wondering who "Rossi" and "Lorenzo" and "Marquez" are. But they'll thank me later.
That was what motorcycle racing used to be, and has now resurfaced.
Thank you, GP!! For getting back to the core of it all.