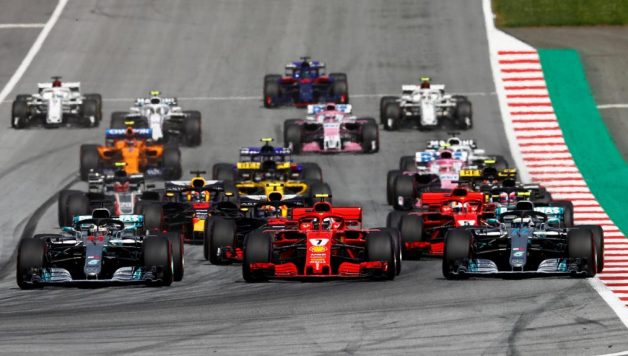 FORMULA 1: Verstappen wins at Red Bull Ring while Haas earns best ever finish
Red Bull Racing is always seeking an advantage over Mercedes and Ferrari. With F1 visiting the team's home track in Austria on Sunday, perhaps they found a little extra motivation.
Max Verstappen won the Eyetime Grand Prix of Austria at the Red Bull Ring, marking the fourth time he stood atop the podium in his young career. Ferrari's Kimi Raikkonen and Sebastian Vettel finished second and third respectively.
While it was a happy day for Verstappen and Ferrari, Red Bull veteran Daniel Ricciardo suffered a gearbox failure on Lap 54. To make matters worse, the mechanical issue took him out of the race on his 29th birthday.
The Mercedes team had an unsuccessful day too despite starting from the front row. Pole sitter Valtteri Bottas suffered a hydraulic problem after 13 laps and failed to finish for the second time this season. Lewis Hamilton led 25 laps, but his race was shortened as well because his car lost fuel pressure with less than 10 laps to go. This was his first DNF since the infamous power unit combustion at the 2016 Malaysian Grand Prix, which occurred while he was leading with 16 to go.
Haas F1 Team enjoys double points day
For the first time this season, both Haas cars finished with points. Romain Grosjean scored his first points of the season with his fourth-place result while Kevin Magnussen came home fifth. It's been a struggle for the American-based organization as Magnussen entered the race 10th in the championship and Grosjean one of two drivers without a single point.
Perhaps the Austrian Grand Prix can serve as a momentum starter for Haas. They've been outrun by midpack teams such as McLaren, Renault, Sauber and Toro Rosso throughout the year. Their results at Spielberg certainly must be a confidence boost and know that their Ferrari engines can provide the pace necessary to compete for podiums sooner than later.
F1 returns to the Silverstone Circuit for the Rolex British Grand Prix next Sunday. Hamilton is a four-time defending winner at the England track. He's one point behind Vettel for the championship lead.
Photo: Glenn Dunbar/LAT/Sutton Images