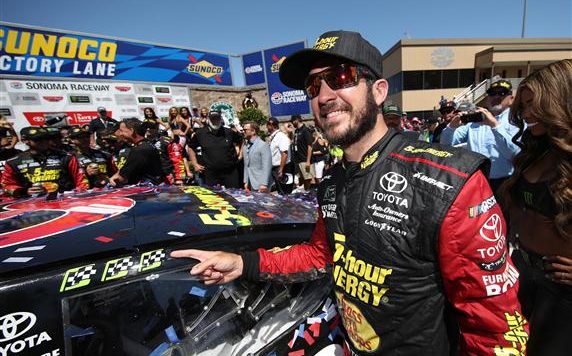 Haverlin's Hot Take: The good, bad, and ugly of the 2018 NASCAR season's first half
It's officially the summer, which means NASCAR is striding through its midseason stretch. Sixteen points events have aired on Fox Sports, and now NBC Sports takes over for the final 20 races of the year. The dash for the playoffs will heat up over the next 10 weeks, and most notably, Dale Earnhardt Jr. will begin his new career as a race analyst for NBC, starting with this weekend's Overton's 400 at Chicagoland Speedway.
But before the second half begins, let's examine what the first four months of racing brought.
The Good: "The Big 3"
Kevin Harvick, Kyle Busch, and Martin Truex Jr. have been given this nickname because it's their cars that are up front every week. Harvick won three consecutive races after the Daytona 500. A month later, Busch started his own three-win streak and earned victories at Texas, Bristol, and Richmond.
Since the beginning of this month, Truex has been included in the conversation. His Pocono win made him the third multi-race winner of 2018, and he won the most recent event at Sonoma. The Furniture Row Racing driver has three wins and the No. 78 is starting to look like the dominant team that won the 2017 title.
Aside from this trio, Stewart-Haas Racing's three drivers other than Harvick have had strong seasons. Clint Bowyer has two wins while Kurt Busch and Aric Almirola both reside in the top-10 in points. SHR's Ford counterpart Team Penske has been solid as well, although only Joey Logano has been able to visit the winner's circle, which he did at Talladega.
The Bad: Almost everyone else
If you aren't driving for SHR, FRR, Penske, or Joe Gibbs Racing, your season has likely been bleak. Kyle Larson has quietly had an OK year as he sits ninth in the standings with five top-fives and nine top-10s, but he and Chip Ganassi Racing haven't been up to par with their 2017 performance.
Last year's "Big 3" included Truex, Kyle Busch, and Larson, but he hasn't won yet and is on pace to lead at least 500 laps less than he did in 2017. The new Chevrolet Camaro has been underwhelming as other "Bowtie" organizations such as Hendrick Motorsports and Richard Childress Racing — and all their affiliated teams — don't have a single driver top-10 in the standings.
Then there's Roush Fenway Racing, which looks like it'll be on life support soon. Ricky Stenhouse Jr. is 16th in points, but is currently outside the playoff bubble since Austin Dillon, who will make the postseason with his Daytona 500 triumph, is 18th in points. Two months ago, RFR announced that it would bring 2003 Cup champion Matt Kenseth in-house to drive the No. 6 Ford on a part-time basis because Trevor Bayne has failed to show improvement since becoming a full-timer in 2015. Kenseth hasn't looked any better than Bayne, though. In four races, his average finish is 25th.
Lastly, NASCAR's young guns including Chase Elliott, Erik Jones, Daniel Suarez, Alex Bowman, William Byron, Darrell Wallace Jr. and Ty Dillon have as many wins as you and me: 0.
Let's give Wallace and Dillon a bit of slack though, as they're not in top-tier equipment. But everyone else is either with HMS or JGR, and they're not getting it done. NASCAR's marketing team has promoted the series' rookies so diligently the last few months, but when will they finally win? The fans aren't going to wait forever.
The Ugly: TV ratings and attendance
Of the 16 races completed this year, 15 of them went down in television ratings from last year. The only event that went up was the Michigan race, which went from 2.0 to a 2.2. Most of them declined between 15 and 20 percent, indicating that NASCAR continues to lose popularity and interest from the casual fan. Weekly ratings can be viewed on Jayski.com.
Attendance is an even worse predicament right now. As Forbes reported in May, some of the sport's most traditional venues, such as Bristol and Richmond, had crowds of less than 50,000 this spring. About a decade ago, these tracks easily attracted over 100,000 spectators. Over the last few years, many of the places the Cup Series visits have torn down grandstands, which in effect makes the seats look more filled on television. Yes, it's more aesthetically pleasing to see people in the stands, but NASCAR isn't fooling anyone. We all know that fan turnouts aren't what they used to be.
What do you think?
When will NASCAR's youngest Cup drivers start winning and who'll be first? What can the sport do to rejuvenate fan interest in the meantime? Will Earnhardt's presence in the NBC broadcast booth improve TV ratings at all? Is there someone not named Truex, Harvick or Busch that could become a title contender in the second half?
DISCLAIMER: Thoughts and opinions reflected are only those of the writer. Follow him on Twitter @JohnHaverlin
Photo: Chris Graythen/Getty Images