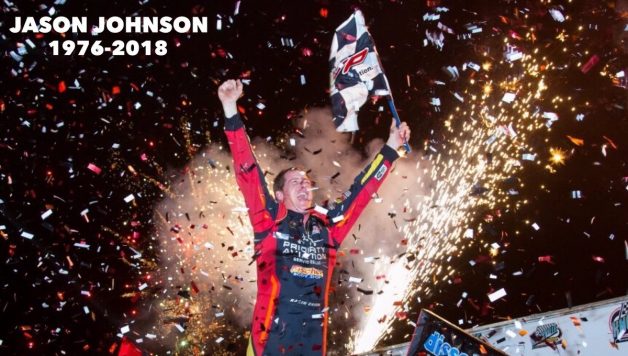 By Spencer Hill
It's a risk that all of us are aware of, most of us accept, but none of us are prepared for. Unfortunately, the Sprint Car world was once again reminded of this risk over the weekend as World of Outlaws Craftsman Sprint Car Series superstar, Jason Johnson, succumbed to injuries suffered during a wreck during the A-Feature at Beaver Dam Raceway Saturday night in Beaver Dam, WI.
Johnson, 41, was a proven talent on the track with over 250 career wins in Sprint Car racing, including an impressive five American Sprint Car Series championships, 12 World of Outlaws victories, and one Knoxville Nationals championship. Off the track, Johnson was known as a compassionate person with a soft soul who cared so much for his wife, Bobbi, 5-year old son, Jaxx, and the racing empire that he had worked so hard to create – Jason Johnson Racing.
He also connected with his fans unlike any other driver, often sending personalized thank you cards to anyone who purchased his merchandise online. Even with his busy schedule, it showed just how much Jason appreciated being where he was.
"His dream was to race, to beat the best and to try and be the best," stated Jason Johnson Racing team spokesperson, John Saich. "And that's what he did. He lived his dream."
Above everything else, Jason was a wonderful father, husband, and friend to so many. His racing career will stay in the record books for years to come, but his legacy and the memories that he left us with will remain forever. For one final time, we salute the one and only Ragin' Cajun.
A GoFundMe page has been set up through the World of Outlaws Benevolent Fund and can be found at GoFundMe.com/JasonJohnsonForever41
A celebration of life will be held for Jason on Wednesday, June 27 at the Jason Johnson Racing shop in Rocky Mount, Missouri at 6:30 p.m.
#Forever41
Photo: World of Outlaws