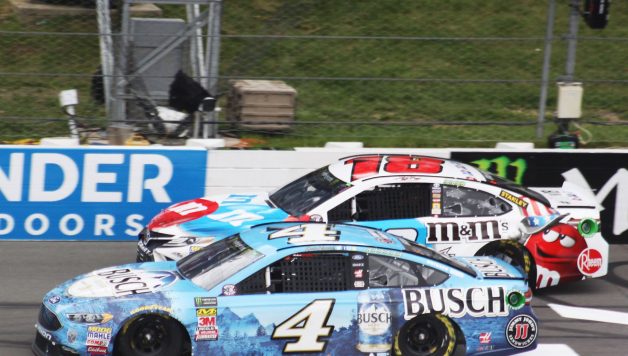 Sunday's Pocono 400 may have foreshadowed this year's championship battle
LONG POND, Pa. — The top-four finishers of Sunday's Pocono 400 may very well be the championship contenders we see at Homestead-Miami Speedway in November.
Martin Truex Jr. won his 17th career race on the "Tricky Triangle" while Kyle Larson, Kyle Busch, and Kevin Harvick rounded out the top-four. All but Larson were in the championship battle in Southern Florida last year. Brad Keselowski, who finished fifth, was the other title contender.
Truex won the first stage and Harvick the second. Busch finished no worse than third in all three segments. Larson steadily improved throughout the day with finishes of eighth and sixth in the first two stages. He's been the best Chevrolet driver for a majority of the season.
"I felt like my car today was kind of as good as its been all year," Larson said. "I feel like I've been a step behind the 18, 78 and the 4."
The Chip Ganassi Racing driver hasn't been as sharp as he was last year when he was one of the top-three on a weekly basis with Truex and Busch. But as the Chevrolets have gained momentum, so has he.
Next week, the series goes to Michigan Speedway, where he has won the last three events.
"I haven't even thought about Michigan yet, but I'm excited to go there," he said. "Three wins in a row. For whatever reason, we've been fast there. We actually weren't that fast the last one we had there, but we were able to have some good restarts at the end. Hopefully, we can have our car as competitive as it was the first two times, and try to get a fourth win."
Truex also feels his Furniture Row Racing crew is finally producing winning cars instead of just "top-five" cars. Luck hasn't been on the No. 78 driver's side as often as last year. He's crashed out in three of 14 races.
"We had winning speed today for sure," he said. "I thought we hit it really well. … We've been fast, we've been a tiny bit off in getting the balance where it needs to.
"Besides four races, we've been top-five all but once."
Then there's Harvick and Busch who've been dominant all season. Both drivers have made it to Homestead as a title contender in all but once since the playoff format was introduced in 2014.
"I think three out of the four have definitely been the best," Larson said. "I mean, I'm the only one that doesn't have a win in the front four. But yeah, I mean, the 2, the 12 — yeah, I don't know. I think that three of those guys are definitely head over heels better than the rest of us, but I think from fourth to sixth or seventh best car, it's pretty close."
The 2 and 12 of Brad Keselowski and Ryan Blaney have been at the front when it hasn't been Truex, Busch or Harvick. The Team Penske trio only has one win this season, but they're in the top-five essentially every week.
It's only June, so it's too early to say who will be the final four. But Harvick and Busch are tied for the most playoff points (25), and Truex has 13.
Would the top-four Pocono finishers be OK with facing off against one another in five months?
"I'm good with it," Busch said.
Added Larson: "I'm good with that. Let's do it."
DISCLAIMER: Thoughts and opinions reflected are only those of the writer. Follow him on Twitter @JohnHaverlin
Photo: AJ Yabroudy