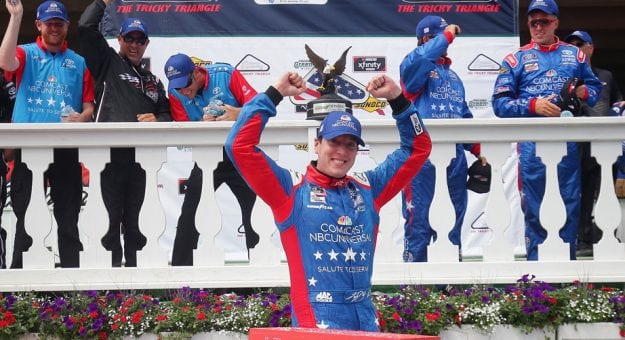 LONG POND, Pa. — Kyle Busch won for the 92nd time in the NASCAR Xfinity Series on Saturday afternoon.
After starting fourth, Busch worked his way to a Stage 1 victory before suffering a pit road speeding penalty under the first caution. He began Stage 2 from the back but climbed to sixth at the halfway mark.
Paul Menard won the second stage after passing Cole Custer on the final lap of it.
Busch got back to the lead with 40 to go and didn't look back. He won for the first time in the 2018 Xfinity season. Chase Elliott, driving for GMS Racing, finished second.
"I felt like I could get maybe close to (Busch's) pace but I don't think I could run him down without his draft," Elliott said. "I thought my car drove better than his; he was just faster and had more speed."
The biggest storyline entering the Pocono Green 250 was the aerodynamic package all the cars would use on the 2.5-mile track. The vehicles had restrictor plates, taller spoilers, and aero ducts to create a stronger draft, but it reduced the top speed by about 20 percent.
The package was similar to the one used at Indianapolis Motor Speedway in last season's Xfinity race. It was well-received because of the large tow created by cars running essentially wide open, but the tighter corners at the "Tricky Triangle" didn't permit that.
"It was something that was unknown for everybody," said Daniel Hemric, who finished third. "Because of the off throttle time, I think that's why you didn't see the same style of racing as Indianapolis. … With this package, we expected to have so much throttle-on time. … It wasn't exactly it."
Elliott said, "I'm not sure that it's the right fit, the perfect fit for this race track. You're still lifting a fair amount. It's a fine line between how you want your care to drive versus how fast you want to go."
Busch said the aero package is "boring as shit" after his postrace news conference. But he felt the "best guy, and the best car won."
The off-throttle time essentially ruined what NASCAR hoped for. When drivers have to decelerate in the corners, pack racing becomes difficult to achieve.
"It always difficult to pass more times than not," Busch said. "From my vantage point, there was enough off-throttle time that the driver made a difference, the car made a difference."
The series will likely have a better show at Michigan Speedway because the track has wide, sweeping corners with high speeds. Don't expect Saturday's on-track product to be what we see at the two-mile, D-shaped oval. Michigan doesn't have the tight turns that make Pocono the unique venue that it is.
Photo: Jared C. Tilton / Getty Images