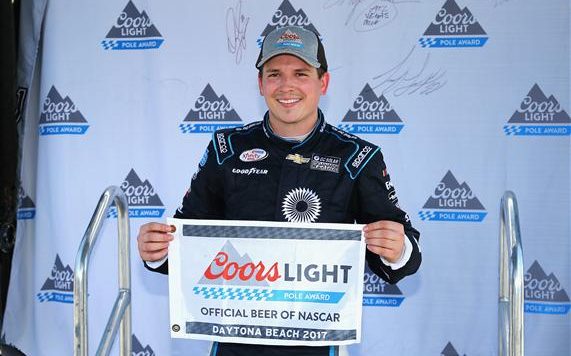 Brennan Poole still pursuing dream to be NASCAR Cup driver
LONG POND, Pa. — When the checkered flag waved at the NASCAR Xfinity Series finale at Homestead-Miami Speedway in November, Brennan Poole was left without a ride for 2018.
Poole, 27, competed with Chip Ganassi Racing for three years, including two full-time seasons as the driver of the No. 48 DC Solar Chevrolet. During that span, he earned 36 top-10s, eight top-fives, and one pole.
He's spent the majority of this year away from the track, although he doesn't want to quit his mission of making it to the NASCAR Cup Series.
"Obviously, I am still going after my dream of being a Cup driver," Poole told the New Mexico Motorsports Report. He's kept himself in shape and is making the most of his time while not racing.
"A lot of riding my bike, a lot of running, training … stuff like that," he said. "I've played a little more golf this year than I got to last year. And just working on racing again."
A few weeks ago, the Xfinity Series tested at Charlotte Motor Speedway. Poole was there in the No. 23 Chevrolet for GMS Racing because Spencer Gallagher was indefinitely suspended just four days after his first career win at Talladega Superspeedway.
Poole couldn't say if he'll have a chance to race the GMS car, but he did compete in the ARCA Racing Series event at Pocono Raceway on Friday evening.
Venturini Motorsports reached out to him because the team needed a relief driver for Natalie Decker, who underwent hernia surgery last week. Decker started the race but pulled onto pit road as the field took the green in the General Tire #AnywhereIsPossible 200.
The No. 25 Venturini team swapped out Decker and Poole climbed in for the 80-lap race. Decker was credited with points because she was the driver that started the event and Poole finished eighth in her car.
"Natalie and I were able to spend a lot of time together. I was at the Charlotte race to meet her and hang out with the team a little bit to kind of just get familiar with everything," Poole said. "This week, she was here Wednesday at the test. She was very involved.
"She's super driven. … She's here right in the mix trying to learn and pay attention to our team."
Although Poole doesn't have any further plans at the moment, he could continue his role as a substitute whenever a team needs one. Sponsorship is king when it comes to finding a ride, and that will likely dictate Poole's fate. He has talent, but it can't be showcased without help from the mighty dollar.
Photo by Sarah Crabill/Getty Images