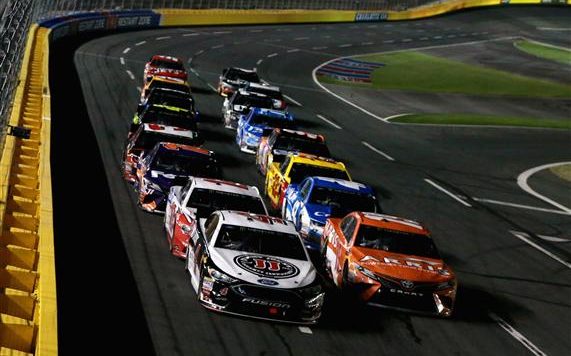 Haverlin's Hot Take: Gimmicky aero packages aren't what NASCAR Cup cars need
LONG POND, Pa. — At first glance, it was cool.
The NASCAR Cup All-Star event used the aerodynamic package similar to the one used at last year's Xfinity Series event at Indianapolis Motor Speedway. The cars had restrictor plates in them to reduce air flow to the engine to create closer racing, and it was initially well-received.
Then, the Cup cars used them at the 1.5-mile Charlotte Motor Speedway two weeks ago. The racing was reminiscent of what's expected at Daytona and Talladega — packs of cars alongside each other with little room for error.
But it was a gimmick designed to make the usually lackluster All-Star event entertaining. The cars were easier to race and a driver was only as good as the drafting help he received.
Clean air was king; it always has been and always will be, according to Dale Earnhardt Jr.
Always will be https://t.co/JdPsmFE7PU

— Dale Earnhardt Jr. (@DaleJr) May 20, 2018
The leader was able to control the field by blocking whichever lane of cars had a faster run. That's become acceptable for Daytona and Talladega because the series visits those tracks twice per year. But that sort of racing isn't meant to be a weekly affair.
"As a race car driver, it was pretty easy to drive," Alex Bowman said. "We're the premier stock car series in the world, so obviously you would like it to be a little more difficult to drive. You don't just want to go everywhere and be wide open."
Darrell Wallace Jr. said the race felt like a "Saturday night" scene, referring to the lower level, local events that occur at short tracks throughout the country. The NASCAR Cup Series is the big leagues, so he doesn't want to feel like he's playing Tee-ball.
"If you had the need for speed and decent car control, anybody could have driven that," Wallace said. "It shouldn't be like that."
Wallace added that he doesn't want to feel like he can play with LeBron James at the NBA level, but with NASCAR's aero rules, that comparison has translated to auto racing.
Having a racing package that creates closer competition is OK for lower series. The package was praised when the Xfinity cars used it because fastest and slowest cars in the field are capable of such different speeds that without the restrictor plate, it was a boring race. It also didn't help that Kyle Busch dominated Indy for three years, and fans love to complain about him running in the Xfinity Series, but that's a debate for a different day.
At Pocono, the Xfinity cars will run another similar package. Busch will run Saturday's Xfinity race, so will he be able to dominate?
"It takes a long time to get around here," Busch said. "You know, it's got a little bit of a reward for a draft or an opportunity to close up on a guy down the straightaway, but not as much as I was hoping for or expecting, and it has a lot of turbulence in the air when you get into Turn 1, when you get into Turn 3.
"We're pretty fast, but the car doesn't drive very good when we get in traffic. You know, if mine is really fast and doesn't drive very good in traffic, I can't imagine what everybody else's is, so we'll see what happens in the race this weekend. I'm not sure we're going to get what we all expect to get."
If it evens the playing field for the minor league levels of NASCAR, then OK, we'll tolerate that. Fans that watch this series want to be entertained and see the younger drivers win. But when they move to Cup, they're competing with the big boys. Let racing be racing.
DISCLAIMER: Thoughts and opinions reflected are only those of the writer. Follow him on Twitter @JohnHaverlin
Photo: Sean Gardner / Getty Images