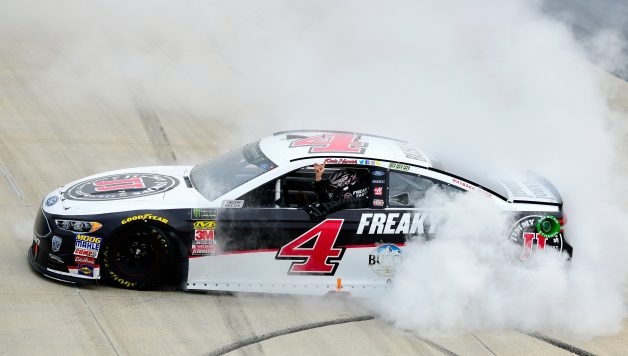 Breaking down the AAA 400
DOVER, Del. — Stewart-Haas Racing earned its fifth win of the NASCAR Cup season as Kevin Harvick dominated at Dover International Speedway on Sunday.
Harvick overtook his SHR teammate Clint Bowyer with 64 laps to go and scored his fourth win of the year. Bowyer finished second, and Joe Gibbs Racing sophomore Daniel Suarez tied his career-best result of third.
The concrete changes quickly
With Dover having a concrete racing surface, drivers said that the grip and temperature change more rapidly than most other venues the series visits. Track position is always crucial at Dover, but cars were able to find speed in multiple grooves.
"It's a weird rubber, and it's a weird tire that we have with Goodyear at this concrete track," Bowyer said. "You really put it down fast.
"As soon as a caution comes out, it's like our cars are vacuum sweepers. You can go out and pick it up, and when it's a white track, in five laps you're right back fighting the same challenges as it rubbers up again. That's what makes it fun, makes it unique."
Suarez concurred with Bowyer's "vacuum" comment. He also emphasized how the track varies as the laps tick by.
"It's black, and then two laps later, everything is clean," Suarez said, referring to the surface color when a caution came out. "If it's not clean, you see a lot of lines from the tires. … As a driver, you have to adapt to those situations."
SHR is the new JGR
When Kyle Busch returned to Cup competition after an injury at Daytona International Speedway in 2015, it seems JGR was in a league of its own. In 2016, Toyota won its first manufacturer's title, and last year, Martin Truex Jr. (albeit with Furniture Row Racing, a JGR-allianced organization) dominated essentially every track NASCAR visited.
But Fords have had the upper hand in 2018 so far. Brad Keselowski predicted the Blue Ovals to take a "drubbing" this year, but it's been anything but that. SHR and Team Penske, which fields three Fords, are outrunning the Chevrolet Camaros and the Camrys almost every week. If they keep this pace, Ford could win its first manufacturer championship since 2002.
"You don't really set a benchmark on where you want to be," SHR co-owner Tony Stewart said. The team switched from Chevy after the 2016 season and won only three races last year.
"The goal is just to move forward. But the hard thing is to set a benchmark of where it's actually going to go."
SHR had three of its four cars finish in the top-five. The fourth driver, Aric Almirola, finished one spot outside the top 10. Harvick has carried the flag since joining the team in 2014; Bowyer ended his five-plus year winless brought, Kurt Busch is consistently a top-10 driver, and Almirola is performing better than Danica Patrick ever did in the No. 10. Everything is gelling with this team.
When will Suarez break through?
The Monterrey, Mexico native earned his first top-five of 2018 at the Monster Mile and tied his best finish, which came at Watkins Glen last August. Sunday's race was the best he's ever had on an oval in the Cup Series. It shouldn't come as a surprise though — he won the fall 2016 Xfinity Series race at Dover.
"I feel like we had a pretty strong pretty much the entire weekend," he said. "We had a top-five or top-10 car the entire weekend. Sometimes a little less, a little more. Track position was huge. … I feel like right there at the end, we were maybe a third-place car. Track position really meant a lot."
His team owner Joe Gibbs added: "I talk him almost every night before a race and ask him how's the car. He said to me last night, 'I'm really excited about tomorrow. I think I got a really good car.' … We talk a lot to Scott (Graves, crew chief) and I think he's on a high right now."
When will he break through for his first win, though? That's hard to predict, especially when Kyle Busch is your teammate. But he's an Xfinity champion. He and Erik Jones will come around and start winning races once JGR gets a little more rhythm back in its step.
Happy Harvick
The win is great, and all, but Harvick will be excited to show his son Keelan the Miles the Monster trophy when he gets home. After Harvick's fall 2015 win, Keelan used the monster trophy as a toy and broke the arm off it.
He was asked what he'll do to keep the youngster from breaking this trophy, but Harvick is too pleased with the victory to care. He also has about 40 other trophies from Cup wins that are still intact.
"Oh he can break it," he said. "It's fine."
DISCLAIMER: Thoughts and opinions reflected are only those of the writer. Follow him on Twitter @JohnHaverlin
Photo:Robert Laberge/Getty Images