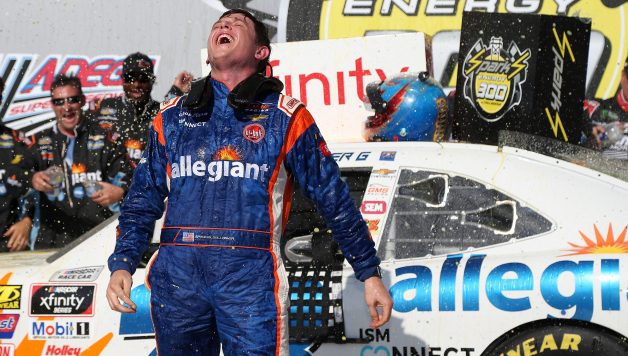 Haverlin's Hot Take: Let's give some kudos to NASCAR and Spencer Gallagher
Spencer Gallagher won his first career NASCAR race on Saturday at Talladega Superspeedway, and then he was indefinitely suspended for failing a random drug screening four days later.
Gallagher, 28, runs for his family-owned GMS Racing team, which cut its teeth in the ARCA Racing Series and the Camping World Truck Series. Gallagher's father, Maurice, is the CEO of Allegiant Air and built the race team for his son. Together, they've created a successful Truck Series organization, which won the 2016 series title with Johnny Sauter.
Last year, the team fielded a full-time Xfinity Series car for Spencer's rookie season but didn't enjoy much success. Gallagher finished 19th in the standings and earned only one top-10 in 33 races. It made a lot of people think he was just another silver spoon kid that doesn't have what it takes to win.
But this year, Gallagher had been one of the most impressive drivers in the series. In nine races, he's posted five top-10s and two top-fives. Then, he won Talladega.
Gallagher, only a sophomore in the Xfinity Series, looked like a veteran as he held off the top-tier cars of JR Motorsports and Joe Gibbs Racing in the final laps at the 2.66-mile track. GMS doesn't quite have the muscle that the teams affiliated with Cup organizations have, making his triumph all the more impressive.
But then he failed a drug test. NASCAR didn't say what he tested positive for or when the screening occurred, but it took swift action by suspending Gallagher.
Just as swiftly, Gallagher agreed to participate in the Road to Recovery Program.
Here are a few thoughts to ponder:
Gallagher's test date was not made public. We don't know if he was tested before or after Talladega, and that matters. If it was before the win, he must've known that a punishment was coming, no? He'd be stupid to think he'd get away with a failed drug test.
On the other hand, if the test occurred after his win, he should rethink his "party like it's 1999" philosophy. NASCAR will let its drivers drink alcohol until they lose function of their basic motor skills (just as Clint Bowyer about his Martinsville win or Brad Keselowski after his 2012 championship,) but any other substance is banned. Whatever Gallagher consumed, he knows it was against his better judgment and stated that this mistake would be only a one-time affair. I'll take his word for word it and commend him for owning up to his error and joining the recovery program.
Let's also praise NASCAR for enforcing its zero-tolerance policy. This isn't the first time a driver has been caught with a banned substance in his system. Remember Jeremy Mayfield? He's been out of NASCAR for nearly a decade. A.J. Allmendinger also had an incident in 2012 which costed him a ride in Team Penske's No. 22 Cup car. But Allmendinger rehabilitated and his career has resurrected. He won his first Cup race at Watkins Glen International with the small JTG-Daugherty Racing team four years ago.
There are other stick-and-ball sports (looking at you, MLB, NFL, and NBA) that are way too lenient with their athletes. NASCAR is far from a perfect sport, but at least it has the ethics not to let any of its stars get away with substance abuse. This scenario is a perfect example of what should be done when an athlete fails a drug test. Take a lesson, Rob Manfred, Roger Goodell, and Adam Silver.
Gallagher will return, and when he does, he'll be a contender again. He doesn't have the chance for a playoff waiver, so 2018 is a lost cause, but expect a more mature, faster and title-contending Spencer Gallagher come 2019.
DISCLAIMER: Thoughts and opinions reflected are only those of the writer. Follow him on Twitter @JohnHaverlin
Photo: Brian Lawdermilk/Getty Images