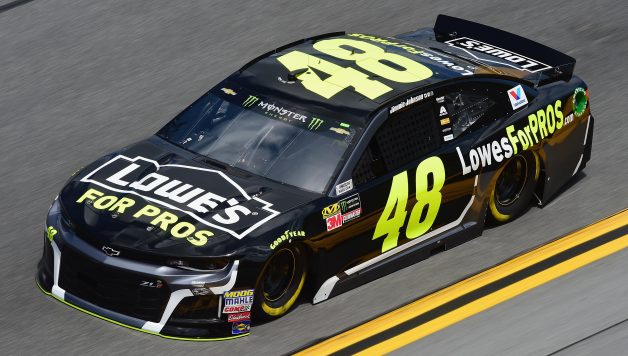 Haverlin's Hot Take: My top-five NASCAR drivers of all time
During the Easter break, Fox Sports unveiled its list of the 50 greatest NASCAR drivers of all time. The top-five included Dale Earnhardt Sr., Jeff Gordon, David Pearson, Jimmie Johnson and Richard Petty, ranking from fifth to first.
Naturally, social media folks engaged in heated debates over the list. A lot would say Earnhardt should have been No. 1, including his former gasman.
Just watched and heard Dale Earnhardt ranked 5th all time on drivers list.Lot of things I would like to say hope I can wait until tomorrow on SiriusXM 90

— chocolatemyers3 (@chocolatemyers3) April 4, 2018
I agree that the five drivers Fox listed are the greatest to ever race. However, I disagree with the order. Here's how I rank them:
No. 5 — David Pearson
A fair argument for Pearson as the No. 1 driver of all time could be made, too. However, I don't think he's as recognizable to the casual fan as the other four drivers. He had 105 wins in 574 career Cup starts. That's a victory in 18 percent of all races he started, which is the highest of all time. It even tops Richard Petty, who had 200 wins in 1,184 starts — almost 17 percent.
He's second on the all-time wins list and earned three titles during his 27-year career. His most famous moment was the 1976 Daytona 500 victory he snagged when wrecking with Petty on the frontstretch coming to the checkered flag. He finished as the only driver to complete all 200 laps.
No. 4 — Jeff Gordon
Jeff Gordon transcended NASCAR from its southern roots and helped the sport reach its peak in popularity through the late 1990s and early 2000s. He won four championships, 93 races, and became a household name across the auto racing world.
Gordon's rivalry with Earnhardt was one of the greatest the sport has ever seen. The No. 24 and No. 3 were door-to-door in seemingly every race throughout the late 1990s. The battle would have lasted even longer had Earnhardt not tragically died in the 2001 Daytona 500.
No. 3 — Dale Earnhardt
The trio of seven-timers are the top-three drivers of all time, but the No. 3 is No. 3 to me. Earnhardt was the face of the sport throughout the 1980s and 1990s. "The Intimidator," as he was known, was as fierce a competitor as any race car driver history. His Daytona 500 victory in 1998 was arguably the most anticipated and celebrated win in the history of the sport.
Had his career not been cut short, who knows what more he could have accomplished. He'll always be remembered as the driver willing to bump a race leader and steal a win, or his iconic celebration when every crewman of every team shook his hand as he paraded down pit road in the 1998 Daytona 500.
No. 2 — Richard Petty
"The King" won 200 Cup races. No one else is ever going to do that again. He won seven titles and seven Daytona 500s. The No. 43 car is synonymous with the Petty name, and it always will be. His presence in NASCAR has existed since the 1950s, and he's still going strong at age 80.
His signature hat and sunglasses are unmistakable. And now the driver of his No. 43 is Darrell Wallace Jr., one of the young hotshots NASCAR hopes will blossom into a superstar.
No. 1 — Jimmie Johnson
Seven Cup trophies, five of which were consecutive, 83 wins, and he's not done yet. Johnson, 42, is the greatest driver the sport has ever seen. His accomplishments are overwhelmingly amazing. The era of stock car racing he's in is as competitive as ever, which makes it even more incredible at what he's done.
He hasn't looked good in 2018 yet, but the No. 48 always finds a way. Can he win the unprecedented eighth title before his career ends? I think so.
Photo by Jared C. Tilton/Getty Images