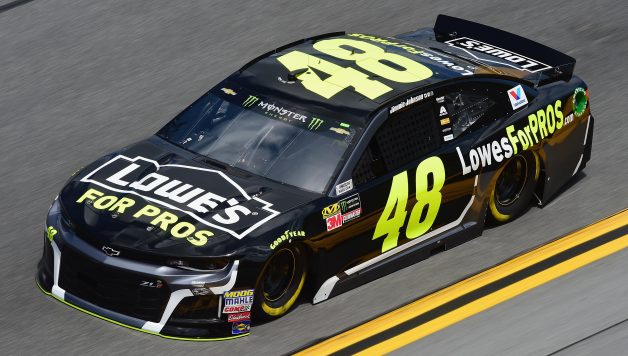 Haverlin's Hot Take: Jimmie Johnson should be more motivated than ever
Since becoming a NASCAR Cup Series driver, Jimmie Johnson's never had his back against the wall as much as he does right now.
Johnson, 42, finds himself in a predicament as he pursues championship No. 8. On Wednesday, Hendrick Motorsports announced that Lowe's would not return to sponsor the No. 48 Chevrolet in 2019.
He's been sponsored by the home improvement company since his Cup debut in 2001 and has become one of the most successful drivers in NASCAR history with the Lowe's emblem on his hood.
But the No. 48 hasn't performed well the last few years. Johnson won the 2016 title, but he wasn't the dominant driver that season like he was during his span of five consecutive championships in the late 2000s. Last year, he won three races but had an average finish of 17th and led 217 laps, which were both career lows.
The start to 2018 has been horrific for the No. 48 team. His best result through four races is 12th, which came at Las Vegas Motor Speedway. Believe it or not, that was considered a decent finish because he ran about 25th most of the day.
Now that he'll continue the season without sponsorship security, he needs to demonstrate that his skills aren't diminishing and age isn't becoming a factor for him just yet. He's made it clear that he wants to compete beyond this season but that will only occur if he gets back to his winning ways.
Finding the right sponsor won't be easy. Johnson will likely be remembered as the man who won seven championships as a Lowe's driver. He's built his brand with the company, and it's going to be difficult recreating his image with a new sponsor.
On the other hand, if he doesn't win No. 8 this year, potential partners should think about the benefit of being his sponsor if he were to win another title. Eight championships is a feat that's never been accomplished and being associated with it must be an investment that should undoubtedly pay off. Think about it — partnering with an eight-timer would have to attract new customers, right?
Ultimately, he needs to boost the results or else he'll be out of a ride sooner than later. That's what happened to his former teammate Kasey Kahne last year. Kahne wasn't performing, so his sponsors cut ties. Matt Kenseth lost sponsors too, and since Joe Gibbs Racing decided to bring Erik Jones in-house from Furniture Row Racing this year, the 2003 champion was the odd man out. He couldn't attract sponsors, which was because of his age and diminishing results. Now he's entirely out of NASCAR.
Johnson's not ready to say goodbye yet. He's never been about the stats or creating a legacy. He's just a racer. But he'll only be that as long as the dollar allows.
DISCLAIMER: Thoughts and opinions reflected are only those of the writer. Follow him on Twitter @JohnHaverlin
Photo: NASCAR Media