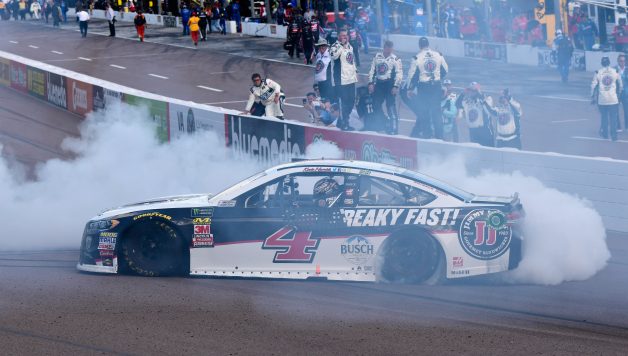 Trackside with Dominic Aragon: How about Kevin Harvick's dominance and NASCAR's new social media strategy?
FONTANA, Calif. — Last weekend's race in Phoenix further proved how dominant Kevin Harvick is and how difficult it'll be to slow down Stewart-Haas Racing.
What made this win different for Harvick was that he didn't lead the most laps but was there when it all counted.
It looks like it could be only the beginning.
How far can he go?
It appears Harvick is "The Closer" of old, from when he first joined SHR.
If he were to continue at this pace, Harvick would shatter the modern-era wins-in-a-season record by more than double.
He won't win 27 of 36 races, but perhaps a double-digit win year is in the cards.
The last time a driver scored wins in the double digits was 2007 when Jimmie Johnson won 10 times, along with the title.
Harvick's won at all the intermediate tracks coming up on the schedule, and he's back in front of the hometown crowd this weekend, a place he won at in 2011.
What's also interesting is he's now one of the oldest competitors on the circuit yet still at the top of his game.
Similar to how we can truly appreciate the seven-title run Johnson pulled, we should enjoy the run Harvick is on right now because it's that impressive.
We'll look back in five years, when Harvick is in the twilight of his career — or possibly retired — and think of how great it was to see a driver whoop some butt against competitors half his age.
Trending in SoCal
Our team was invited to NASCAR's downtown Los Angeles office for the announcement with Twitter Wednesday.
Twitter is partnering with NASCAR to bring fans live in-car camera access to five regular season and all of the playoff races.
We spoke with a representative from the social media giant and she said a deal like this takes time to come together and they have the fans' interest in mind.
The fans win with a move like this.
This sport prides itself on the access it gives fans and this only furthers it.
Where else can you get free access to what is occurring in a professional sport? Exactly.
With so many people turning to social media, NASCAR's strategic move here rewards the fans who use the platform and will push others to log on and see what's happening.
Plus, there's always a chance new fans could be lured in because they might be impressed with they see on their feed.
DISCLAIMER: Thoughts and opinions reflected are only those of the writer. Follow him on Twitter @DominicAragon
Photos: Robert Laberge/Getty Images