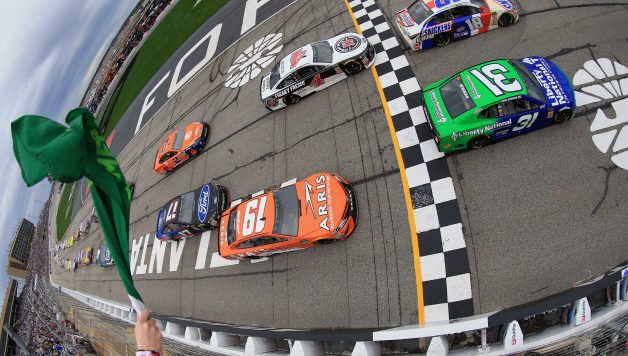 Haverlin's Hot Take: There was good, bad and ugly from Atlanta
The NASCAR community often refers to the race following the Daytona 500 as the first "real race" of the season.
That's because Daytona is a two-weekend event and the unpredictability of restrictor plate racing doesn't demonstrate how good or bad a race team will be the rest of the year.
The 1.5-mile Atlanta Motor Speedway is the first downforce track of the year. One-third of the Cup schedule is on 1.5-milers and history's taught us that if you want to compete for a championship, you need a strong intermediate program.
The Good
Kevin Harvick and the Blue Ovals. "Happy" dominated both the Xfinity Series and Cup Series events over the weekend. On Saturday, he led 141 of 163 laps in the Rinnai 250 and won all three stages.
For Sunday's Folds of Honor QuikTrip 500, he was out front for 181 of 325 laps and earned his first win at the track since his emotional 2001 victory, when he won three weeks after the death of Dale Earnhardt Sr.
His Stewart-Haas Racing teammates were fast, too. During the middle of the race, all four SHR cars were running in the top-seven. Clint Bowyer finished third and Kurt Busch, who led 52 laps, finished eighth. SHR's newest driver, Aric Almirola came home 13th.
Overall, the Ford camp was the quickest. Seven of the 13 cars that finished on the lead lap were Blue Ovals, including the top-three. Brad Keselowski finished second after leading 38 laps. His Penske teammates Joey Logano and Ryan Blaney were sixth and 12th, respectively.
The Bad
Two things stood out. The first: Hendrick Motorsports, and more specifically, Jimmie Johnson.
Johnson has made 27 starts at Atlanta and won five times. But his most recent race there was horrific. He finished four laps down in 27th and was one of the three reasons a non-stage caution came out. On Lap 158, he spun at the exit of Turn 2 and suffered right front fender damage because of a flat tire.
But aside from the spin, the No. 48 Chevrolet simply didn't have the speed. It's not a common sight, but he was getting lapped during green flag runs.
The rest of HMS wasn't strong either. Chase Elliott was the lone top-10 finisher while William Byron and Alex Bowman posted results of 18th and 20th.
Here's the silver lining: Chevy-powered organizations are still adjusting to the new Camaro ZL1. Teams are still learning the aerodynamic capabilities of the body so as the season goes along, the cars will likely get better.
The second issue during the race was the Paoli pit guns. Harvick, Bowman, Kyle Busch and Martin Truex Jr.'s teams all had mechanical problems with NASCAR's new mandated air guns.
The gun was introduced this year to level the playing field from a financial standpoint. The powerhouse teams were reportedly spending upwards of a million dollars developing air guns that could tighten and loosen lug nuts faster than their competition. Now that every team has the same gun, NASCAR thought it would reduce the ability of teams to have an unfair advantage during pit stops.
But so far, the guns have created more problems than solutions. Truex's crew chief Cole Pearn called the guns "pieces of shit."
Also worth noting is a Wood Brothers Racing tweet about a gun failure during Daytona.
We had a gun blowout last week too. https://t.co/9WJrBwbYuk

— Wood Brothers Racing (@woodbrothers21) February 25, 2018
On Monday, NASCAR executive VP and chief racing development officer Steve O'Donnell told Sirius/XM NASCAR Radio that the sanctioning body will address the gun issues.
"Obviously, we don't want to see failures with any part or piece," O'Donnell said. "We knew going in that this could potentially happen and the likelihood of it happening at some point during the season was fairly high. But we're going to have those conversations and get it right.
"It was an initiative that we worked closely with the teams on and never want to see a part or piece malfunction. We want it to be in the hands of the drivers and the race teams. That's something we obviously take very seriously and we'll head to Vegas … hopefully get that cleaned up."
The Ugly
Some fans might say 43. Others will say 40. Jeff Gordon said 32.
On Sunday, there were 36.
What is the right number of cars per race, and why does this debate keep reoccurring?
With the charter agreement, 36 cars are guaranteed into every points event. There are also four open spots for teams that don't own a charter. However, open teams only rake in about a third of the purse money that charter teams make.
In other words, the value of starting a race without a charter is near negligible. The 36-car field was the smallest since the Hanes 500 at Martinsville Speedway in September 1996.
But it's not necessarily a bad thing. Think about the years after the 2008 financial crisis. On any given weekend, there could be at least six start-and-parks. A 43-car field was essentially a 36 or 37-car field after a few laps because teams couldn't afford to run entire races. From a competition standpoint, that's outrageous. No other major racing league around the world has start-and-parks, so why is it OK in NASCAR?
NASCAR has historically had three or four dozen cars per race. But let's consider what Gordon said. Thirty-two seems a little too low, so why might he say that number? Here's something to consider:
There are 32 cars that use engines from the top-four suppliers.
Toyota Racing Development supports Joe Gibbs Racing and Furniture Row Racing (five cars).
Hendrick Motorsports supplies engines for itself and Chip Ganassi Racing (six).
Roush Yates Engines can be found at Team Penske, Wood Brothers Racing, SHR, Front Row Motorsports, Roush Fenway Racing and GoFas Racing (13).
ECR Engines powers Richard Childress Racing, Germain Racing, Leavine Family Racing, JTG-Daugherty Racing, Richard Petty Motorsports and for the Daytona 500 with Danica Patrick, Premium Motorsports (eight).
The series backmarkers — BK Racing, TriStar Motorsports, Rick Ware Racing, and StarCom Racing — get their motors from either Race Engines Plus or Pro Motor Engines.
If you care about quality over quantity, then 32-36 race cars might be OK. If you enjoyed 40-plus cars, I'm sorry to inform you that those days are over.
Personally, I'm fine with fewer cars. NASCAR still has a tremendous advantage over Formula One and the IndyCar Series in terms of field size. Those series typically have 20-22 cars per race.
The NASCAR Cup Series is elite, and I like that it's becoming exclusive to the teams with charters. It seems like NASCAR is telling start-up teams to pay their dues in the Truck or Xfinity Series first. Once they find success there and are ready to take their business to the next level, then — and ONLY then — they should make the move to Cup.
DISCLAIMER: Thoughts and opinions reflected are only those of the writer. Follow him on Twitter @JohnHaverlin
Photo: Daniel Shirey/Getty Images