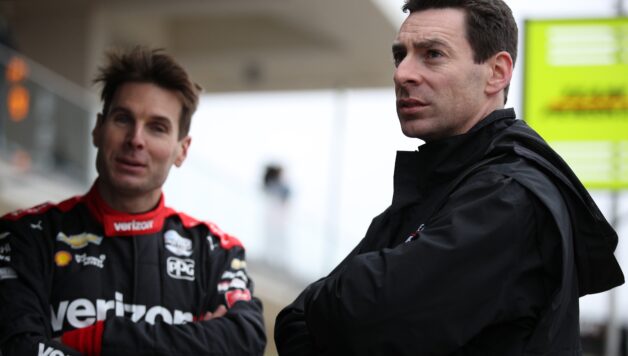 Even in iRacing, 'The Captain's' IndyCar drivers are 'Penske Perfect'
(Virtual) MOTEGI, Japan — Although the results from Saturday's virtual IndyCar race at Twin Ring Motegi won't wholly agree, Team Penske drivers seem to be as good in simulator racing as they are in actual racing.
Simon Pagenaud, the defending Indianapolis 500 champion, took the checkered flag for the second consecutive week of the IndyCar iRacing Challenge. He is now the winner of virtual events at Michigan International Speedway and the Twin Ring Motegi oval.
Team Penske has won three of the four events so far in the six-race challenge. Scott McLaughlin, Penske's Australia Supercars champion, won at Barber Motorsports Park two weeks ago, and Pagenaud has been the only driver to win since. Will Power has finishes of third, second, fourth, and third in the iRacing Challenge.
Had Arrow McLaren SP rookie Oliver Askew not been a hindrance in Power's late-race lead at Motegi, he probably would have won the Firestone 175. Askew was trying to return to the lead lap with a pass on the leaders, but it resulted in contact and damage to Power and McLaughlin's cars.
The only weak link has been Josef Newgarden. But he nonetheless has two top-10 results in the four races. And let's cut him some slack — he is a two-time series champion, after all.
iRacing has proven to be a challenge to even the best drivers in IndyCar. Alexander Rossi, who has been top-three in the championship for two consecutive years, has struggled. He's finished 17th, 27th, seventh, and 28th in the IndyCar iRaces. He admits that it's been difficult for him to get a firm grasp of the platform; just look at how he pokes fun at himself on Twitter:
https://twitter.com/AlexanderRossi/status/1248778137862680576
Four-time Indy car champion Sebastien Bourdais hasn't exactly impressed on the service either. He's finished 23rd, 13th, and 20th twice.
Team owner Roger Penske always has a way to recruit the best wheelmen to keep his team competing at the highest level. His drivers are always polished from head-to-toe with clean-shaven faces and quiff haircuts. And, of course, they have an unquestionable talent behind the wheel.
Penske doesn't pick drivers for his team based on the amount of sponsorship or funding they have. Penske is a self-made billionaire in the trucking and transportation business — auto racing is essentially a hobby for him. He chooses his employees for their talent, and the belief that he can fit into his "effort equals results" culture.
It's evident Penske has the best drivers and engineers in the series. While the Penske Chevrolets are typically the fastest in real-life racing, one can see that the drivers are best in sim racing, too.
Photo: Chris Graythen / Getty Images